VOST Select Sale 9, Friday evening online at 8.00 PM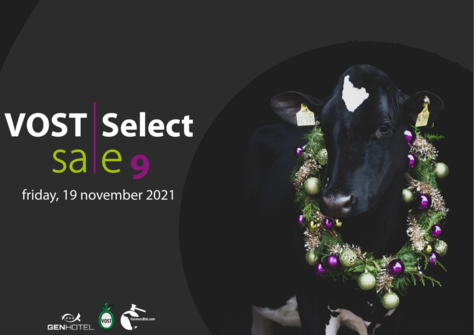 Schedule:
Thu 18. Nov from 12 noon:  Start online pre-bidding
​Thu 18. Nov at 5.00 PM:      Open barn @Ostfrieslandhalle Leer, Germany
Fri 19. Nov at 8.00 PM:        Online sale at www.vost-select-sale.de
⇒ Register first!
Bidding
From Thursday, November 18th noon we offer the possibility for 'pre-bidding'. In order to bid for your favourite, it is necessary to register early. If you haven't already done this, we recommend that you do to so at www.vost-select-sale.de. Do you already have an account, but have you forgotten your password? Then click on 'I forgot my password' on this page. For more information, click HERE.
The current Corona measures make it possible to organize a 'Meet & Greet' with breeders and consignors. On Thursday 18 November at 5.00 PM the Ostfrieslandhalle (Nessestrasse 1 26789 Leer, Germany) is open to watch the sale animals. This is only possible with a valid vaccination certificate (QR Code) or a negative Corona test (not older than 24 hours). A face mask is required!
On Friday, November 19th at 8.00 PM the online auction starts. All sale heifers will be auctioned in catalogue order by Auktioneer Eric Lievens via www.vost-select-sale.de.  
Lot numbers:
The catalogue can be found online on the sale page. Here you will also find videos and photos of the lot numbers that will not be in Leer on Thursday evening. Below is a list of the selling lots, which you can watch during the Meet & Greet in Leer:
Lot numbers present:

No.   Name

No.  Name

1     GWH Carla VG 86

37    Blondin Supergirl

3     Rueben Applecrumble RDC

38    Mox Arve

4     Eva-Marie

39    Nieke

5     Kröger Jerseys Gerda

40    Amore

8     Salsa Red P

41    ViG Melody P Red

9     KNS Coco Chanel Red

42    Amelie Red

10    GHH Lamoure RDF

43    DHU MarsBerry

11    NN Sunrise

44    AM Atacama-P RDC

12    Adella P RDC

45    NH Hawanna RDC

13    Mox Manitoba P Red

47    RR Hostesse P RDC

16    Cinderella Red

48    Jacobs GA Brettonia

17    Greta

49    MS Helix Cleo

18    Delta

 

52    FG Lamborghini Red

19    ViG Babsi

53    GHO Zandra

23    GWH Heaven RDC VG 86

54    Season

28    Wilcor Unix Narcotic

59    Belinda

29    Golden Oaks Chicago

60    KHL Grace Kelly

30    MOK Julie

62    Inka PP Red

32    RR Rosmarie RDC

63    Arizona RDC

33    KNS Daft Punk RDC

67    Rapid Bay Honeymoon
---
Contact GenHotel for questions or more info:
Boudewijn Koole            Mob.:  +31 6 54796318        E-mail: boudewijn@genhotel.nl
Martijn van der Boom    Mob.:  +31 6 24217748        E-mail: martijn@genhotel.nl
René te Wierik                Mob.:  +31 6 38005918       E-mail: rene@genhotel.nl
Krista Reijlink                  Mob.:  +31 6 23684492      E-mail: krista@genhotel.nl
---