Rainow embryos available from the Grietje family!
Sales
3STAR Gloria at VMO Holsteins
This week VMO Holsteins and GenHotel flushed 3STAR Gloria (by KNS Simon P) in order to supply fantastic offspring. This flush with sire of sons Peak Rainow resulted in embryos which are now available through the 3STAR Embryo Program. 
3STAR Gloria is a fancy heifer with 158 gRZG and 343 gNVI. She's a KNS Simon P-daughter straight from the Grietje 80 EX-91 family. Gloria her full brother 3STAR Secundus (163 gRZG) is in AI at the German stud Qnetics. Secundus isn't the only bull from this originally Dutch cow family. Their granddam - SPH Goldstern GP-84 - is the full sister of the bull SPH Cyrano and also the maternal sister of SPH My Dream P RDC (by Mission P RDC).
Dam K&L RA Goldie, also from the 3STAR Embryo Program, is milking at Veenhouwer and as a 2-yr-old projected to produce 9,746 kgs of milk with 4.65% fat and 3.60% protein in 305 days. The GP-84 Cinema dam is also a great milk producer and managed to produce 17,396 kgs of milk in 305 days in her 2nd lactation. This pedigree shows a great daughter proven sire stack with Rubi Agronaut x GP-84 Cinema x VG-86 Shotglass x VG-85 Beacon, and brings a special touch to this offer!
Peak Rainow is an Peak AltaZazzle from the J-Mor Shottle Heavenly EX-90 family. This top ranking genomic bull shows sky high indexes in several systems (2966 gTPI / 164 gRZG / 354 gNVI / 887 gPLI), which will provide you great international opportunities!
Please contact us for more information.

3STAR Gloria, a very complete daughter of KNS Simon P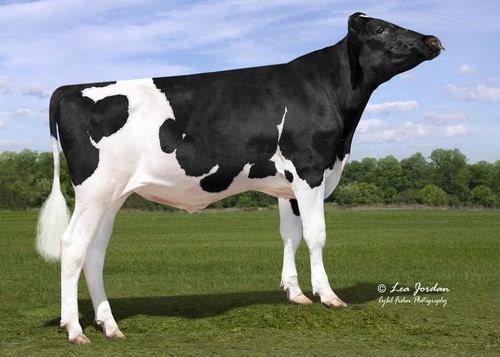 Peak Rainow (2966 gTPI / 164 gRZG / 354 gNVI / 887 gPLI)