V/h Zomerbloemhof strikes with two excellent cows
General
Kaylee v/h Zomerbloemhof now excellent!
Recently 53 cows at V/h Zomerbloemhof were classified with an average score of VG-85.5. Two cows in their fourth lactation were even classified excellent, also a second calver at Lahousse's dairy farm did an fantastic job with VG-89!
It's not uncommon for Lahousse to show the classifier such a high number of milking cows. At the V/h Zomerbloemhof dairy farm are 210 cows being milked and during the last classification day, 53 of them were classified, of which no less than 30 milking heifers!
It was a very special day for the fourth calvers, Kalinka v/h Zomerbloemhof (s. Moonboy) and Kaylee V/H Zomerbloemhof. Both cows scored an amazing EX-90! Kaylee EX-90, sired by EDG Rubicon, is a granddaughter of Co-Vista Atwood Desire EX-90. This makes her a descendant of the special Hanover-Hill Tony Rae EX-96 family, supplier of many daughter proven sires, including Scientific Destry RDC.

Co-Vista Atwood Desire EX-90 (by Atwood) granddam Kaylee EX-90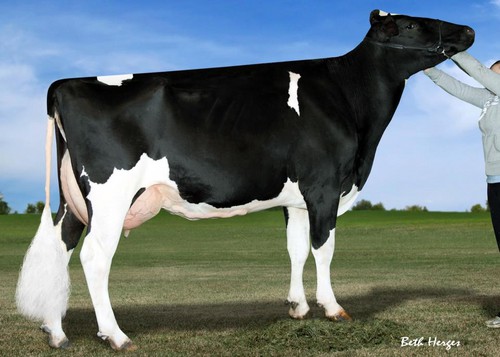 Scientific Deluxe Rae EX-91 (by Shottle) 4th dam of Kaylee EX-90 & maternal sister of Scientific Destry RDC
Kaylee EX-90 her niece Marcia V/H Zomerbloemhof is fresh by her second calf and ended up with a great VG-89/VG-89 MS & FR! As a young heifer Marcia VG-89 (s. Legendary) already tested great for NVI as well as TPI, and also her daughter Olymphia V/H Zomerbloemhof by Progenesis Topnotch still scores 155 gRZG as a 1.5-year-old! From Olymphia her heifer flushes embryos are sold to an German AI-stud.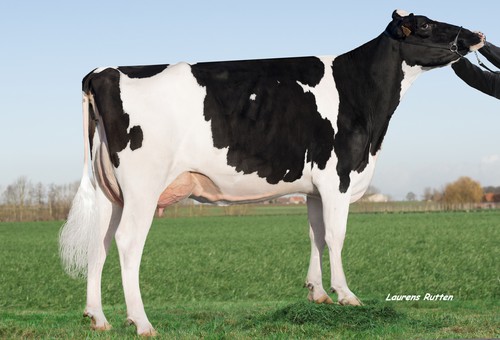 Kemelia V/H Zomerbloemhof VG-87 (by EDG Rubicon) dam of Marcia VG-89 & full sister to Kaylee EX-90
Not only the milking cows received nice scores, also the first calvers did a tremendous job, since four of them scored VG-87. Two of the four are sired by Mirabell Sound System; Nunu & Nevine. Both are classified VG-87 and both are projected over 10.000 kgs M in just 305 days.
Also a Pine-Tree Mod Kennedy713 x S-S-I Bookem Modesto 7269 VG-87, named Nio, was awarded with VG-87. This makes Nio VG-87 the 11th generation of the Rilara Mars Las Ravena EX-91 family with VG or EX! You may already know this cow family, because proven sire Delta Jupiler and De Dorre Pinnacle Peak, sold through the De Dorre Selection Sale, are members of this family too.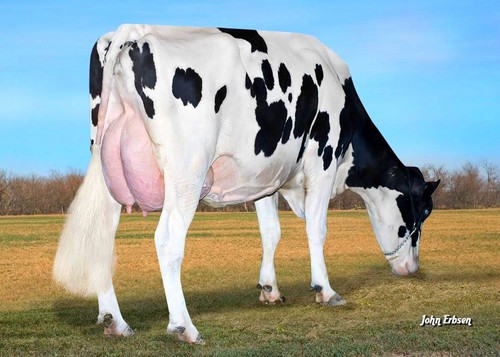 S-S-I Bookem Modesto 7269 VG-87, dam Nio VG-87
The 30 milking heifers score an average of 84.1. Check the list with all the highlights below.
| | | | | | | | | | |
| --- | --- | --- | --- | --- | --- | --- | --- | --- | --- |
| Name | Sire | Dam | Col | Lact | FR | DS | MS | FL | TOT |
| Kalinka | Moonboy | Hendrika VG-86 | B | 4 | 92 | 92 | 91 | 88 | 90 |
| Kaylee | Rubicon | Uno Ducey n.c. | B | 4 | 88 | 89 | 90 | 91 | 90 |
| Jade | Bradnick | Bailey GP-83  | B | 5 | 90 | 89 | 87 | 88 | 89 |
| Kaatje | Eraser P | Rochelle P VG-86 | B | 4 | 90 | 89 | 90 | 87 | 89 |
| Love | Kingboy | Ioty GP-84 | B | 3 | 88 | 89 | 88 | 90 | 89 |
| Marcia | Legendary | Kemelia VG-87 | B | 2 | 89 | 88 | 89 | 88 | 89 |
| Lynn | Jetset | Marilyn 505 n.c | B | 3 | 86 | 87 | 87 | 90 | 88 |
| Lotje | Jetset | Marilyn 505n.c. | B | 3 | 88 | 89 | 89 | 87 | 88 |
| Milkway | Kingboy | Panzul VG-88 | B | 3 | 90 | 89 | 89 | 85 | 88 |
| Mercy | Monterey | Knuffel VG-87 | B | 2 | 87 | 88 | 88 | 89 | 88 |
| Keetje | Eraser P | Rochelle P VG-86 | B | 4 | 87 | 87 | 87 | 86 | 87 |
| Katrien | Kingboy | Shawlana GP-82  | B | 4 | 89 | 88 | 84 | 88 | 87 |
| Laurien | Kingboy | Jamaica GP-82 | B | 3 | 87 | 87 | 87 | 88 | 87 |
| Lauren | Doorsopen | Hocky VG-85 | B | 3 | 88 | 87 | 88 | 86 | 87 |
| Maro | Kokos | Karo | B | 2 | 88 | 88 | 88 | 86 | 87 |
| Macy | Detour | Focky VG-85 | B | 2 | 86 | 87 | 88 | 86 | 87 |
| Noeske | Charismatic | Loesje VG-85 | B | 2 | 89 | 88 | 84 | 89 | 87 |
| Nunu | Soundsystem | Lulu GP-84 | B | 1 | 87 | 87 | 87 | 87 | 87 |
| Nevine | Soundsystem | Luxe VG-87 | B | 1 | 87 | 88 | 86 | 87 | 87 |
| Nio | Kennedy | Modesto 7269 VG-87 | B | 1 | 85 | 86 | 87 | 87 | 87 |
| Nady | Leonardo | Lely VG-85 | B | 1 | 87 | 87 | 87 | 88 | 87 |