Top GTPI females in Europe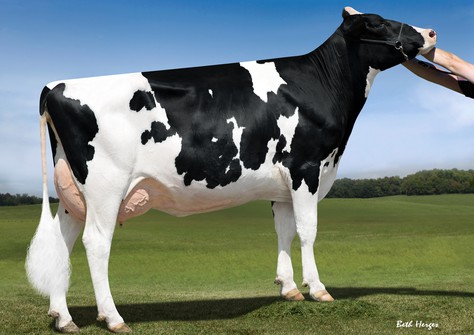 Genomics
Cookiecutter Ssire Have VG-86, granddam of Beerzedal K&L Hawkhave 2
The April USA genomics from the European females have been released again. You can find the complete top 100 in Europe plus the 50 highest newly tested heifers on the GENOMICS page.
De Oosterhof & GenHotel have 3 females in de top 20 GTPI in Europe. Two of these heifers, K&L OH Mabel and K&L OH Mirror are also the No. 1 and No. 2 flush age heifers in Europe for GTPI! K&L OH Mindy ranks 8th with 2841 gTPI and is a Redrock-View Klutch from the Seagull-Bay Oman Mirror VG-86 family. A high newcomer for De Oosterhof & GenHotel is K&L OH Jacky, a Cookiecutter Humblenkind out of the ND-Druvale Jb Uno Sissy EX-92 family.
Beerzedal K&L Hawkhave 2, a Mr Spring Nighthawk from the Cookiecutter Mom Halo VG-88 family, is the number 3 gTPI Nighthawk daugchter in Europe now and co-owned by Dieker Holsteins, Dukefarm and GenHotel.
Also Wilder Holsteins has 2 heifers in the de top 50 newly tested females. Wilder Kalina is a OCD Franchise Rio from a Westcoast Kerrigan dam out of the family of Batke Outside Kora EX-94, the Junior Champion at the European Championship in 2006. As well from the Kora family, which also delivered Wilder Hotspot P, is Redrock-View Klutch daughter Wilder Hill.
At Drouner Holsteins Drouner K&L Classy 1637 is the highest debutant. She is a Progenesis Marius out of a promissing Endco Superhero daughter from the Koepon Classy family.
Top 20 gTPI Europe April 2019
 NaME
 PEDIGREE
GTPI
NM
PL
PTAT
 OWNER
 
Dynamo

x

Supershot
2894
1008
8.4
2.11
Schuerer - Hammon GbR
CIRIO AGRICOLA IDRA
Skywalker

x

Abbott
2873
1008
6.6
2.27
Italian owned
DELLAROSSA MEDLEY BRITH
Medley

x

Rubicon
2872
1006
7.8
1.58
Italy owned
MB 87443
Klutch

x

Gatedancer
2863
914
7.8
2.69
German owned
 
Skywalker

x

Bandares
2857
946
8.6
1.81
UK owned
ISLANDPRIDE RIVRDAN AGRO ZOE
Rubi Agronaut

x

Delta
2854
991
8.1
1.50
Uk owned
K&L OH Mabel
Granite

x

Rubicon
2850
897
5.4
3.02
Melkveebedrijf De Oosterhof, GenHotel
K&L OH Mindy
Klutch

x

Delta
2841
891
8.1
2.62
Melkveebedrijf De Oosterhof, GenHotel, K&L
Koepon Nitro Sophia
AltaNitro

x

Monterey
2831
953
7.3
2.09
Koepon Genetics
A-L-H SLUSH
Klutch

x

Delta
2826
922
9.2
2.27
A-L-H Genetics
OLEINE JM
Raiden

x

Rubicon
2824
904
6.7
2.70
French owned
GO-FARM SHANNON ET (2661)
Topnotch

x

Rubicon
2821
957
8.7
1.69
Go-Farm, Italy
NH SUNVIEW BUBBA SUNNY
Big Bubba

x

Delta
2818
929
7.9
2.06
Nosbisch Holsteins, Sunview Holsteins
 
Klutch

x

Kerrigan
2818
918
8.2
1.86
German owned
VILMA7144
Humblenkind

x

Denver
2817
995
7.3
2.26
Hungarian owned
K&L OH Mirror
Rubi Agronaut

x

Josuper
2815
965
6.1
1.88
Melkveebedrijf De Oosterhof, GenHotel
HS DG NANNY
Medley

x

Jedi
2814
1010
8.3
1.47
Hul-Stein, Diamond Genetics
HS DG NATALEE
Tarrino

x

Jedi
2813
960
7.1
1.61
Hul-Stein, Diamond Genetics
ALL NURE GUARA GELOU (2547)
Guarantee

x

Rubicon
2812
971
7.7
1.99
All.Nure Holsteins
 
Blowtorch

x

AltaSpring
2812
855
6.6
2.59
German owned
Top 50 gTPI Newly tested females in Europe April 2019
 NaME
 PEDIGREE
GTPI
NM
PL
PTAT
 OWNER
CIRIO AGRICOLA IDRA
Skywalker

x

Abbott
2873
1008
6.6
2.27
Italian owned
OLEINE JM
Raiden

x

Rubicon
2824
904
6.7
2.70
French owned
HS DG NANNY
Medley

x

Jedi
2814
1010
8.3
1.47
Hul-Stein, Diamond Genetics
DG DV SASKIA
Charl

x

Jedi
2811
961
6.5
2.00
Diamond Genetics, De Volmer
DG DV SENJA
Charl

x

Jedi
2801
946
7.5
1.85
Diamond Genetics, De Volmer
A-L-H HOVERCRAFT
Alcove

x

Silver
2800
930
4.5
2.81
A-L-H Genetics
DGF CLARA
Tarrino

x

Montana
2783
863
7.1
2.18
French owned
POLENTA
Topnotch

x

Montana
2777
901
7.1
2.13
French owned
POPNOTE
Topnotch

x

Montana
2761
911
7.9
1.40
French owned
 
Resolve

x

Delta
2755
879
7.2
1.65
UK owned
POLKA
Topnotch

x

Montana
2750
858
7.8
1.99
French owned
HUL-STEIN DESIREE
Charl

x

Kerrigan
2744
909
6.8
1.73
Hul-Stein
HUL-STEIN EMELY
Medley

x

Bandares
2735
811
7.4
2.65
Hul-Stein
HUL-STEIN DAPHNE
Charl

x

Kerrigan
2733
920
6.3
1.48
Hul-Stein
DG HS PORTO
Medley

x

Sillian
2730
842
6.6
2.32
Diamond Genetics, Hul-Stein
GEN HELSINKI
Charl

x

Modesty
2723
888
5.7
2.09
Genesland
HUL-STEIN MARISKA
Skywalker

x

Modesty
2719
891
6.2
1.80
Diamond Genetics, Hul-Stein
ALPVIEW REDROCK TWERKA
Klutch

x

Modesty
2715
826
6.2
2.18
Alpview
PEAK TOYA JELLY 1058-ET
AltaMontoya

x

AltaRobson
2712
873
6.8
1.75
Peak-Alta, Koepon Genetics
DG JK SELINA
Firefly

x

Silver
2711
869
4.9
1.82
Diamond Genetics, JK Eder
K&L OH Jacky
Humblenkind

x

Jedi
2710
808
8.9
2.26
Melkveebedrijf De Oosterhof, GenHotel
HEIDENSKIPSTER KLUTCH SOFI-ET
Klutch

x

Modesty
2706
838
6.9
2.02
Heidenskipster
NH GL CHARL POMPEYE
Charl

x

Kerrigan
2705
887
6.3
1.49
Nosbisch, Genesland
OTTAWA
Cinder

x

Pepper
2705
864
6.9
1.93
French owned
CHARL SOPHIA
Charl

x

Modesty
2704
917
6.9
1.12
Heidenskipster
SOLERO 1
Big Bubba

x

Delta
2704
841
7.5
1.80
BICC Holstein
HEIDENSKIPSTER JARED SIBYL-ET
Jared

x

Modesty
2702
884
7.6
1.36
Heidenskipster
HUL-STEIN ELSE
Charl

x

Bandares
2702
883
7.2
1.54
Hul-Stein
 
Big Bubba

x

Duke
2702
866
5.1
1.83
Belgium owned
PETUNIA
Jazz

x

Bombero
2701
841
6.6
1.93
French owned
HS DG NAKITO
Medley

x

Jedi
2698
860
7.6
1.43
Hul-Stein, Diamond Genetics
Beerzedal K&L Hawkhave 2-ET
Nighthawk

x

Delta
2697
834
7.4
1.97
Dukefarm Holsteins, Dieker, T., GenHotel
Wilder Kalina
Rio

x

Kerrigan
2695
798
5.7
1.89
Wilder Holsteins
 
Skywalker

x

Hurricane
2694
855
5.0
1.68
Poland owned
DRIBER OLIVER OLIVIA
Oliver

x

Jedi
2694
832
7.2
1.62
Belgium owned
 
Rio

x

Kerrigan
2694
825
6.6
1.83
German owned
CROSSFELL 3384
Fabulous

x

Duke
2694
817
6.0
2.45
UK owned
BVS MORWENA ET
Rubicon

x

Jedi
2693
810
4.7
2.29
Poland owned
DG OH DANNI
Charl

x

Rubicon
2691
856
5.2
1.89
Diamond Genetics, Melkveebedrijf De Oosterhof
KAX 51561
Jaguar

x

Bandares
2691
854
6.2
1.86
German owned
CRISTELLA PAIANELLA ET
Casper

x

Jedi
2690
776
6.9
2.52
Italian owned
Drouner K&L Classy 1637-ET
Marius

x

Superhero
2689
815
6.2
1.87
Drouner Holsteins, GenHotel
RUSHOLME MONTOYA RUCAPELLA-ET
AltaMontoya

x

Modesty
2688
862
5.7
1.88
UK owned
OLAPULSE
Nightsky

x

Missouri
2687
862
6.4
1.62
French owned
HEIDENSKIPSTER KLUTCH SONJA-E
Klutch

x

Modesty
2687
809
8.0
1.87
Heidenskipster
HEIDENSKIPSTER KLUTCH SIGRID
Klutch

x

Modesty
2685
856
8.1
1.43
Heidenskipster
Wilder Hill
Klutch

x

Kerrigan
2685
806
7.8
1.49
Wilder Holsteins
BVS DORA ET
Rubicon

x

Balisto
2684
867
6.2
1.79
Poland owned
OREO
Nightsky

x

Jedi
2684
823
6.1
1.85
French owned
BAMBI SG-ET
Successor

x

Advice
2682
828
5.8
1.55
Swiss owned