The totalpackage: production, components AND type!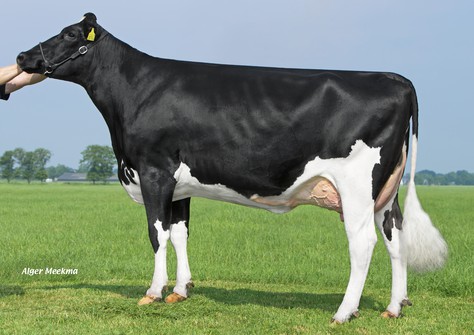 Sales
Willsbro K&L Nugget Aderyn RDC VG-85 (s.Nugget) dam of K&L SP Ariana Red
With a fantastic 8 generations EX pedigree like this one, there is just no other way for K&L SP Ariana Red ET to become the next in line. And she can be yours!
This world-known cow family of D-R-A August EX-96 brings a combination of milkproduction and showtype. Ariana Red (Spark Red x VG-85 Nugget RDC) shows this combination in her traits: 143 gRZM and +126 kg fat + protein.
There are two full brothers of Supersire Aderyn in AI: Whatsapp and Atwork. From Nugget Aderyn are three sons in AI, also two of her grandsons are ready to go to Germany for AI!
Ariana's 3rd dam KHW Super Aderyn RDC EX-90 has been designated as 'Red- Impact cow of the year 2018'. As well as 4th dam Aiko EX-91 in 2015 and her 5th dam Altitude EX-95 in 2009!!
Lot #9 watch and buy at the VOSt Select Sale 29th of November: Spark-Red x VG-85 Nugget x VG-85 Supersire x EX-90 Superstition x EX-91 Goldwyn.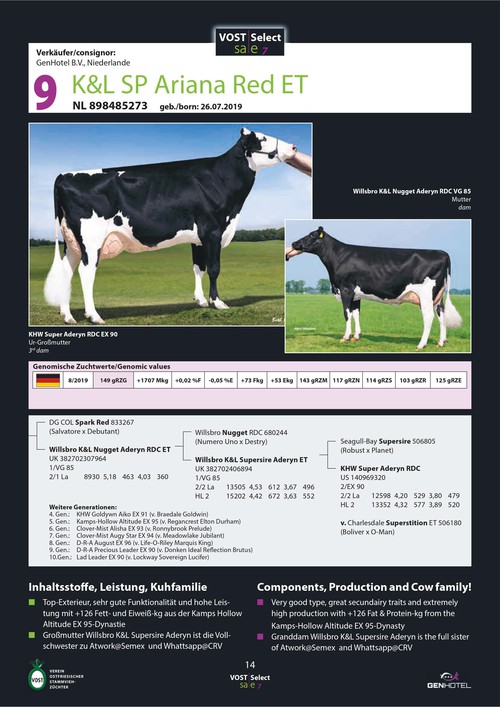 KHW Goldwyn Aiko EX-91 (s. Goldwyn) | 4th dam of K&L SP Ariana Red ET

Kamps-Hollow Altitude EX-95 (s. Durham) | 5th dam of K&L SP Ariana Red ET

D-R-A August EX-96 (s. Riley) | 8th dam of K&L SO Ariana Red ET