Schreur Holsteins scored great classification
General
Snowbiz Sympatico Sofia Red ET VG-85, dam of Sissy RF
Latest classification day at Schreur Holsteins went succesfull. Eleven black and red first calvers got there scores. The average classification score of these eleven cows is 84,3 with an average of 84,8 for mammary system.
Highest classification:
► Siepermanns Sissi RDC VG-86 with 87 MS (Mega Watt x VG-85 Sympatico)
Her dam is Snowbiz Sympatico Sofia Red ET.  Sissi's halfbrother is sire Salvatore RDC. Her production is great with a 305-days production predicted to be 9.187kg, 4.15% fat and 3.16% protein. She's co-owned with GenHotel.
► Schreur Massia 85 VG-86 with 88 T (Trawant x Bolt RF)
► Schreur Caralie 74 P RDC VG-85 (Jetset x Eraser P)
► Schreur Caralie 62 P VG-85 (Rubicon x VG-88 Lawn Boy)
 Her production is super great! Caralie's 305-days production is estimated to be 11.821kg with 4,43% fat and 3,18% protein.
Caralie 74 P and Calarie 62 P both descend from Stookey Fagn Scarlet-Red EX-94.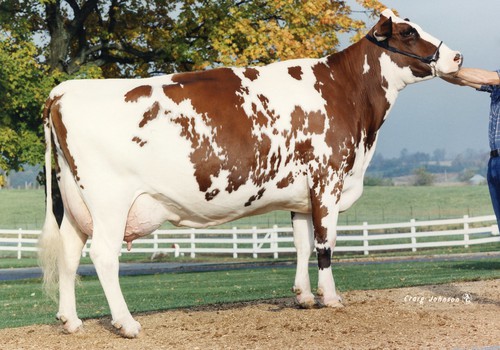 ​ Stookey Fagn Scarlet-RED-ET EX-94 (s. Elevation Fagin)