Number 1 RDC for Siepermann & Hellwig!
Genomics
Snowbiz Sympatico Sofia-Red VG-85, 3rd dam of SIE RZH Solution Ramones RDC
The Holstein Association in America has released the August genomics results of all females. Not much has changed in the European gTPI top, however this month's run has yielded some interesting new heifers for GenHotel members.
Silverridge V Einstein (Topnotch x Duke) is the sire with the most daughters in the newly tested top 50 gTPI this month. His highest daughter is 3STAR OH Roxanne, who scores 2914 gTPI and has as dam K&L OH Rozella. Rozella is one of the highest Boldi V Gymnast daughters worldwide, the full sister of the Spanish top bull K&L OH Rossi Guay and comes from the Whittier-Farms Outside Roz EX-95 family. The full sister of Roxanne, 3STAR OH Reinalda, ranks also in the top with 2851 gTPI.
From the 'Genomic Gigant' K&L OH Mabel, 5 Einstein daughters received a genomic result this month, of which 3STAR OH Mabelien & Martine with resp. 2913 and 2889 gTPI score the highest. Mabel now has 16 daughters above 2800 gTPI from 9 different sires.
Wilder Zecke, from the Holtkamp family, is also one of the highest Einstein daughters in Europe with 2876 gTPI. Zecke comes from Cal-Roy-Al Yoda daughter Wilder Mayday, a half-sister of Wilder Mark RDC (s. Apprentice RDC). Zecke's granddam is the enormously producing Wilder Supershot Mayn VG-89, from the well-known Wilder M family.
Zuchtbetrieb Siepermann and RZH Holsteins (Hellwig) own the highest red carrier heifer this run: SIE RZH Solution Ramones RDC. Ramones RDC is a Fustead S-S-I Solution daughter out of the great brood cow Ri-Val-Re Rasp 2131 RDC (Rubi Asp x Supershot). Ramones is now her highest daughter with 2824 gTPI and traces back to the legendary Canadian Glen-Drummond Shower EX family.
Koepon Batman Sophia 2 is one of the highest Sandy-Valley-I Batman daughters in Europe with 2807 gTPI. She scores very high for components and comes from the very successful Wesswood-HC Rudy Missy EX-92 family, which has produced many top bulls such as Seagull-Bay Supersire, Headliner, Silver, Mogul, AltaOak, Balisto and the current number 1 LPI proven bull in Canada Peak AltaMarlon.
At Vendairy Holsteins, family Van de Ven in Vinkel, Vendairy Jasmin 4403 also breeds very well. This fancy Plain-Knoll King Royal daughter from the WEH Jessica family now has 4 Solution daughters, of which Vendairy Solution Jasmin 4723 scores 2794 gTPI and +2.04 PTAT this month.
In August R&B SW Aimy-Red is the second highest red female with 2645 gTPI. Aimy-Red is a Westcoast Swingman-Red out of Rhala RE Quickstep-Red, the Alaska-Red daughter of the well-known Kamps-Hollow Durham Altitude RDC EX-95 family. Aimy-Red her AltaTop half-sister R&B Aivy-Red will sell at the GenHotel Selection Sale, which starts next week.
Click HERE for the newly tested top 50 gTPI females in Europe.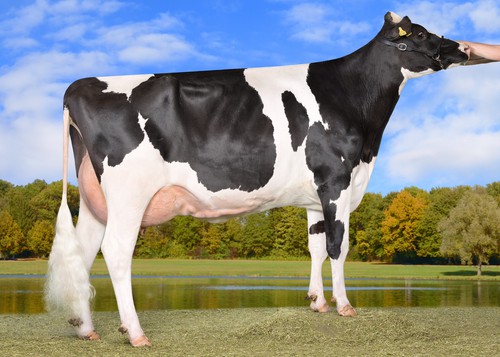 Wilder Mayn VG-89 (s. Supershot), 2nd dam of Wilder Zecke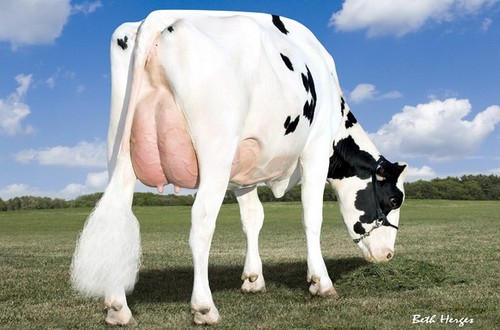 Ammon-Peachey Shana VG-87 (s. Planet), 5th dam of Koepon Batman Sophia 2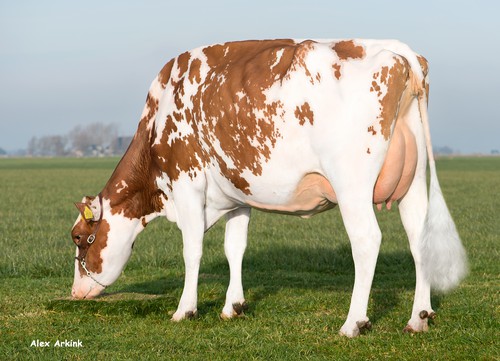 Batouwe Salsa Aiko-Red VG-85 (s. Salsa RDC), granddam of R&B SW Aimy-Red