Sires bred by GenHotel members rank well in NL & FL!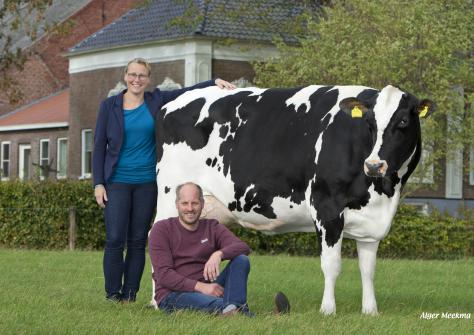 Genomics
Saskia & Arjan van Erp with Marjon 53, dam of proven sire Midwolder Movement
CRV has also published the new bull indexes for the Netherlands and Flanders today.
Daughterproven sires
Competition from abroad is fierce on the NVI list of black and white proven bulls. The leader is, just like in April, the Danish VH Bube Bernell (Bube x Salomon), who is the only bull to score above 300 NVI thanks to a significant production increase (+48 Inet). In the top 10 no fewer than 7 bulls are of foreign origin, but the only 2 debutants in the top 10 are the Dutch-bred Weelder Empire and the much-discussed Double W Ranger last run. Midwolder Movement, a Delta Regard son bred by the Van Erp family out of Midwolder Marjon 53 VG-87 (s. Trigger), shows an excellent production proof. In combination with a high breeding value for longevity, this immediately gives him a place in the top 20.
Schreur Apoll P Red is again the number 2 NVI in the red-and-white daughter-tested bulls in August. He knows how to increase his already enormous milk proof and his breeding value for longevity has also increased considerably. Red Rocks Effort-Red, bred by the Wesselink family, is also doing great business: his breeding value longevity is now at 724 days, making him one of the highest red-and-white bulls. Effort-Red also made significant progress in fertility (from 99 to 102 VRU), increasing his NVI score by 26 points and ending up in 4th place. Poppe Efrain-Red (Effort-Red x Danillo) is just behind his sire, but his enormous production increase (+55 Inet) brings him this run from place 6 to 5. The former number 1 gNVI Aalshorst Rody-Red knows to base his first breeding value on 61 lactating daughters, which puts him in the top 25. The Riverboy RDC son from the Aalshorst Geertjes of the Scholten family scores all round faultless and particularly good for the health traits.
Genomic young sires
In the black and white genomic bulls Delta Endless RDC (Jacuzzi x Finder) has taken over the lead from Rioaveso (Rio x Bandares), who is now in second place. Delta Track, a Bomaz Skywalker x Esperanto with favorable scores for fertility and udder health, has risen by far. Delta Nippon P is and remains the highest polled bull, VH Baboon is the highest production bull in the top. Offspring van het Zomerbloemhof, a Bomaz Skywalker x Cyrano x Bernell, deservedly made its debut in position 14. Offspring, bred by the Lahousse family, comes from the American Tui Opel Ned Boy VG-89 family and shows almost purely positive breeding values. Delta Ribbon, number 2 in April, has dropped to 15th place due to a decrease in its production breeding value.
Delta Nominator-Red is again number 1 in the red-and-white young bulls, followed by his sire Delta Jacuzzi-Red, who made a remarkable leap up (+30 NVI), without adding any milking daughters. The highest debutant (in 3rd place) is Poppe Freestyle-Red, a Gywer RDC son bred by Poppe Holsteins out of Poppe Fienchen 1569-Red (by Wilder Born P RDC). Drouner Altitude-Red also manages to maintain his genomics very well and has increased +0.08 in protein percentage. Red Rocks Bookmaker P Red is the highest red polled bull and a Match P RDC son out of the Red Rocks Massia's. With 312 gNVI he is in a nice 6th position, immediately followed by Schreur Victoria-Red, the Anreli x Go Now who is also maintaining very well. The top 10 is completed by Drouner K&L Augustus P Red, an early and polled Caudumer Solitair P Red son out of Drouner K&L Aiko 1557 RDC VG-87 (by HaH Silky Red), just like Altitude-Red from Kamps-Hollow Durham Altitude RDC EX-95 family.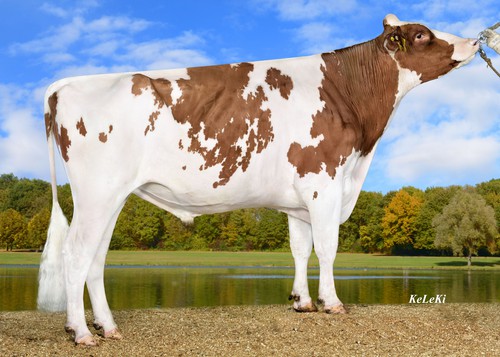 Red Rocks Effort-Red (Ellmau x Snowman), increased his NVI and is at 4th now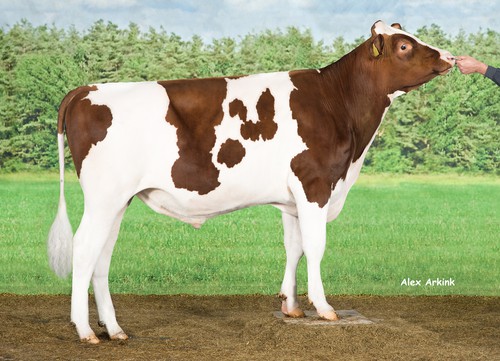 Aalshorst Rody-Red (Riverboy RDC x Fanatic), promissing 1st proof this run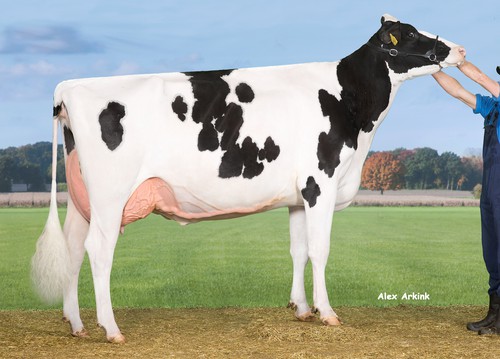 Drouner K&L Aiko 1398 RDC VG-89 (Bestboss x Kanu P Red),
                                                                  granddam of Drouner K&L Augustus P Red