Many new top ranking heifers for GenHotel members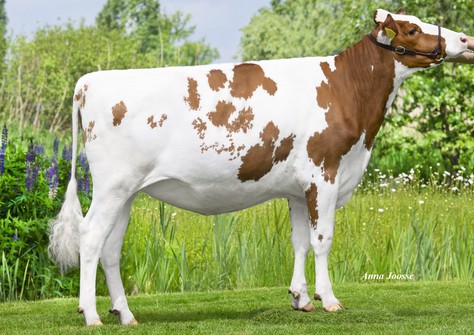 Genomics
Batouwe Ailisha Salve Red, 8 highscoring daughters in May
The May genomic proof run in America has delivered many new and highly tested females from GenHotel members in the top of Europe.
► With 2880 gTPI, 3STAR OH Marvelous is one of the very highest Nacash daughters in the world. Her dam is the great transmitting K&L OH Mabel, who now has 14 daughters (from 6 different sires) over 2800 gTPI, of which 3 above 2900 gTPI. Marvelous her full sister 3STAR OH Marsha (2833 gTPI) and her Sandy-Valley Challenger half-sister Drouner 3STAR Mabel 1730 (2818 gTPI) are also in the top 50 this month.
► Drouner 3STAR Clary 1730, an ABS Crimson x VG-85 Imax from the Drouner / Koepon Classy family, is with 2877 gTPI and 764 NM for both gTPI and Net Merit among the top 10 newly tested heifers in Europe.
► Tirsvad Sniper Gambia, the dam of the 2 high young bulls Tirsvad Hotspot Geyser P and Hondo, has 4 new daughters in May above 2700 gTPI, of which Tirsvad Charl Galathea scores the highest. Galathea is in the May top 50 with 2831 gTPI and comes from the well-known Grietje 80 EX-91 (by Esquimau) family. The polled Tirsvad Riveting Georgina P (Riveting x Charley x Powerball P), also from the Grietje 80 family, is the highest polled this month with 2757 gTPI.
► LisLéck Holsteins also has several new toppers, such as LIS Lametta, a Peak Aztec with 2810 gTPI from the American Cherrypencol Leah, the SSI Modesty Pinnacle half-sister of one of the highest Riveting sons Cherrypencol Treaty (2969 gTPI), Cherrypencol Jimbo (s. Huey, 2919 gTPI) and Moscow (s. Tahiti, 2915 gTPI). Two AltaHotHand daughters, LIS Rapunzel RDC and LIS Raspella, from Ri-Val-Re Rasp 2131 RDC score 2799 and 2766 gTPI, with Rapunzel RDC also receiving the red gene from her dam. Rasp 2131 traces back to one of the most successful red cow families: the Canadian Glen-Drummond Splendor VG-86 family.
► At Wilder Holsteins, Wilder Sarayevo-Red is a very interesting addition and great double breeding product from the Holtkamp family. She is a red Wilder Mark RDC with 2830 gTPI and half sister of Wilder Sophie-Red (by Ronald RDC) the global number 1 gTPI Red Holstein female (2876 gTPI). Two full sisters of Sarayevo-Red also score between 2700 and 2800 gTPI in May, including Wilder Suntime-Red (2739 gTPI). The dam of all these high calves is a red carrier Silverridge V Imax daughter from the influential Apina Massia family.
► BWN 3STAR Aileen RDC is the number 1 Progenesis Watson RDC daughter worldwide with 2751 gTPI! She is a red carrier, her dam is Batouwe Ailisha Salva Red, a fantastic breeding Salvatore RDC from the Kamps-Hollow Durham Altitude RDC EX-95 family. Aileen RDC, like her full sister BWN 3STAR Ailine RDC (2584 gTPI) is jointly owned by BWN Holsteins (Bas Nagel) and 3STAR Genetics.
► This month also 5 Westcoast Swingman-Red daughters of Ailisha-Red got genomics results. The highest is 3STAR SW Aikoline Red, which with 2729 gTPI is the number 3 gTPI red-and-white Swingman daughter in Europe. Full sister BWN 3STAR Sunny-Red follows her shortly afterwards with 2711 gTPI, while 3STAR SW Ailene-Red (with 2679 gTPI) is also one of the top 10 red-and-white European Swingman daughters.
► Lakeside UPS Red Range is able to add high daughters, including Koepon Top Range 18-Red (by Koepon AltaTop-Red) and 3STAR OH Red Rosy-Red (by Rubels-Red) with resp. 2742 and 2743 gTPI. This brings the super transmitting Red Range, dam of the number 1 gTPI Red Holstein bull worldwide 3STAR OH Red Ranger, to a total of 10 daughters above 2700 gTPI.
► At JHS Holsteins (Jan van Soelen), JHS Cinderella 43 is with 2740 gTPI one of the higher Denovo Entity daughters in Europe. Her dam JHS Cinderella 34 (Outlast x Rubicon) is a maternal sister of the high Boldi V Gymnast son K&L Boudy (@ VOSt).
► Lakeside UPS Adeena-Red is a red and white Kcck Appleway RDC daughter out of UPS K&L Adeena RDC, the beautiful Cycle McGucci Jordy-Red. In her pedigree, Adeena-Red combines the KHW Regiment Apple-Red EX-96 family with the MS Kingstead Chief Adeen EX-94 family, resulting in a phenomenal type score of +3.26 PTAT. This makes her one of the top 3 red & white females for type in Europe!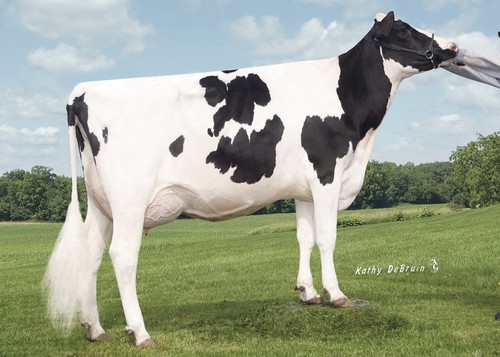 Tiger-Lily Planet Limbo VG-85, 4th dam of LIS Lametta (s. Peak Aztec)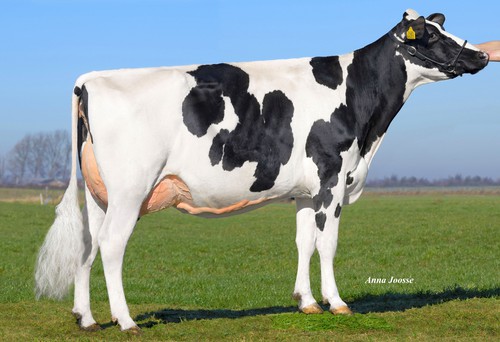 JHS Cinderella 34 VG-85 (s. Rubicon), 2nd dam of JHS Cinderella 43 (s. Entity)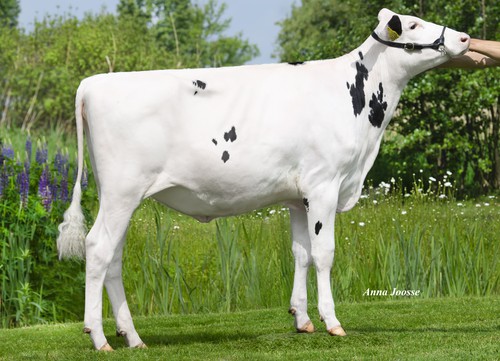 UPS K&L Adeena RDC (s. Jordy-Red), dam of Lakeside UPS Adeena-Red +3.26 PTAT
Top 50 gTPI in May newly tested females in Europe.
Rank
Name
Birth date
Sire
Dam
Owner
gTPI
NM
PTAT

1

HUL-STEIN SWEET BREEZER       

20200203

HULSTEIN BREEZER-ET           

HUL-STEIN SWEET FLAG 2        

HUL-STEIN, NLD

2932

888

 0.18

2

BOGHILL GLAMOUR HEROIC CARLIN

20200202

PINE-TREE HEROIC-ET           

BOGHILL GLAMOUR PERSEUS S CARLIN C  

BOGHILL GLAMOUR

2925

830

 0.36

3

GEN BLAKE                     

20200310

NACASH-ET                     

GEN BLACKY                    

GENESLAND

2898

770

 1.25

4

MILKMEN 3316781234            

20200213

FUSTEAD S-S-I SOLUTION-ET     

VILMA6507                     

HUNGARIAN OWNED

2895

823

 0.75

5

SJK 6828

20200316

MR FRAZZLED ARISTOCRAT-ET     

PRIMEVAL 8490-ET              

SJK HOLSTEINS

2888

746

 1.67

6

3STAR OH MARVELOUS            

20200221

NACASH-ET                     

K&L OH MABEL

DE OOSTERHOF & 3STAR

2880

714

 1.86

7

SJK 6824

20200309

HURTGENLEA RICHARD CHARL-ET   

192

SJK HOLSTEINS

2878

770

 0.96

8

SHA ELENS BEST                

20200311

FUSTEAD SUPERDAY-ET           

MHD ELEN                      

GERMAN OWNED

2877

711

 1.31

9

DROUNER 3STAR CLARY           

20200217

ABS CRIMSON-ET                

DROUNER K&L CLARA

DROUNER & 3STAR

2877

764

 1.29

10

REANNE0824                    

20200310

PINE-TREE-I PURSUIT           

 

HUNGARIAN OWNED

2876

728

 1.20

11

DG DV CECILIA                 

20200118

HURTGENLEA RICHARD CHARL-ET   

DG DV CHRISTIANNE             

DIAMOND GENETICS & DE VOLMER

2876

784

 1.03

12

VISSTEIN FG JANE

20200211

FUSTEAD S-S-I SOLUTION-ET     

VISSTEIN FG JASMINE-ET        

FLEVO GENETICS

2873

756

 1.01

13

MB  01016                     

20200220

FUSTEAD S-S-I SOLUTION-ET     

SHA GUAVE                     

GERMAN OWNED

2870

748

 0.99

14

SJK 6825

20200316

NACASH-ET                     

PRIMEVAL GENETICS 1372-ET     

SJK HOLSTEINS

2864

683

 1.56

15

MARIE0787                     

20200220

PEAK ALTAHOTJOB-ET            

 

HUNGARIAN OWNED

2861

626

 2.55

16

SJK 6817

20200215

MR FRAZZLED ARISTOCRAT-ET     

PRIMEVAL 8490-ET              

SJK HOLSTEINS

2857

692

 1.93

17

GEN LEANNE                    

20200216

SANDY-VALLEY I BATMAN-ET      

LAMBDA X POWERBALL 4010       

GENESLAND

2853

657

 1.73

18

NH HOT AMIRA                  

20200209

PEAK ALTAHOTHAND-ET           

DG AMALIA                     

GERMAN OWNED

2851

703

 1.68

19

WEH 22734                     

20200218

SANDY-VALLEY EISAKU-ET        

WEH 14330                     

GERMAN OWNED

2850

730

 0.94

20

HUL-STEIN FABIOLA             

20200203

MR FRAZZLED ARISTOCRAT-ET     

HUL-STEIN FOO FIGHTER         

HUL-STEIN, NLD

2849

702

 1.10

21

ME RALLYE                     

20200212

PEAK ALTAHOTJOB-ET            

ME NINON                      

FRENCH OWNED

2848

676

 1.91

22

ARK OLIVIA                    

20200203

TJR MODESTY RIDLEY-ET         

MAR OKSAN                     

GERMAN OWNED

2846

661

 1.76

23

NN

20191213

CO-OP AARDEMA SUBZERO-ET      

                              

GERMAN OWNED

2841

660

 1.24

24

SJK 6816

20200211

MR FRAZZLED ARISTOCRAT-ET     

PRIMEVAL 8490-ET              

SJK HOLSTEINS

2840

655

 2.39

25

DG DOCK CHELLY                

20200225

MR FRAZZLED ARISTOCRAT-ET     

HH JEDI CHASSY                

DANISH OWNED

2839

654

 1.90

26

DG SORENTA                    

20200310

MR FRAZZLED ARISTOCRAT-ET     

DIAMOND GENETICS

2838

707

 1.60

27

MB  00456                     

20200115

SILVERRIDGE V TIMBERLAKE      

MB                            

GERMAN OWNED

2835

746

 0.91

28

RODILA                        

20200206

BLUMENFELD FRAZLD BASIC-ET    

                              

FRENCH OWNED

2833

700

 1.15

29

3STAR OH MARSHA               

20200222

NACASH-ET                     

K&L OH MABEL

3STAR & DE OOSTERHOF

2833

685

 1.57

30

KES RIVETI ET                 

20200310

S-S-I BG FRZZLD RIVETING-ET   

GERMAN OWNED

2832

760

 0.66

31

TIRSVAD CHARL GALATHEA-ET     

20191220

HURTGENLEA RICHARD CHARL-ET   

TIRSVAD SNIPER GAMBIA-ET      

TIRSVAD HOLSTEINS

2831

732

 0.71

32

WILDER SARAYEVO (RED)         

20200315

WILDER MARK-ET                

WILDER SANSCHEIN              

WILDER HOLSTEINS

2830

649

 1.59

33

SIE RUW MITHY-ET              

20200118

PEAK ALTAHOTHAND-ET           

 

RZS HOLSTEINS

2827

698

 1.30

34

ROYALE                        

20200116

FUSTEAD S-S-I SOLUTION-ET     

NITENDO                       

FRENCH OWNED

2825

746

 0.91

35

AQUILA DISCJOCKEY TOP         

20200125

CLAYNOOK DISCJOCKEY           

AQUILA CHARLEY PAMELA         

ITALIAN OWNED

2824

666

 1.36

36

GEN PHIBY                     

20200227

SANDY-VALLEY I BATMAN-ET      

8497

GENESLAND

2824

677

 1.35

37

DG ESTA                       

20200314

HURTGENLEA RICHARD CHARL-ET   

DIAMOND GENETICS

2822

696

 0.99

38

REANNE0786                    

20200220

PROGENESIS METROPOLIS         

HUNGARIAN OWNED

2821

680

 0.96

39

WEH 22736                     

20200218

SANDY-VALLEY EISAKU-ET        

WEH 14330                     

GERMAN OWNED

2819

678

 1.35

40

HUL-STEIN CASHFIGHTER         

20200229

NACASH-ET                     

HUL-STEIN FOO FIGHTER         

HUL-STEIN, NLD

2819

710

 0.96

41

DROUNER 3STAR MABEL 1730      

20200228

SANDY-VALLEY CHALLENGER-ET    

K&L OH MABEL

DROUNER & 3STAR

2818

690

 1.45

42

WEH DJ X SOUND SYSTEM 2722    

20191230

CLAYNOOK DISCJOCKEY           

WEH 44656                     

GERMAN OWNED

2817

594

 1.94

43

HUL-STEIN SWEET BOUDIEN       

20200318

HULSTEIN BREEZER-ET           

HUL-STEIN SWEET FLAG 2        

HUL-STEIN, NLD

2816

805

 0.11

44

HUL-STEIN MAGIC               

20200321

REGAN-DANHOF GAMECHANGER-ET   

HUL-STEIN MAXIMA 4            

HUL-STEIN, NLD

2815

680

 1.17

45

GEN PALMER                    

20191228

DG EAGLE-ET                   

COL DG PEGGY                  

GENESLAND

2812

666

 1.28

46

RAVISSANTE                    

20200210

SCHREUR SHIMMER-ET            

OMEGA                         

FRENCH OWNED

2810

670

 1.50

47

LIS LAMETTA                       

20200307

PEAK AZTEC-ET                 

 
LISLECK HOLSTEINS

2810

726

 0.70

48

GEGENIA SOLUTION DIAMOND

20200103

FUSTEAD S-S-I SOLUTION-ET     

GEGANIA IMAX-DIAMOND 51       

ITALIAN OWNED

2808

762

 1.04

49

REBA0800                      

20200224

PINE-TREE-I PURSUIT           

 

HUNGARIAN OWNED

2807

684

 0.79

50

GEGENIA SOLUTION DIAMOND

20200118

FUSTEAD S-S-I SOLUTION-ET     

GEGANIA IMAX-DIAMOND 51       

ITALIAN OWNED

2807

682

 1.61