Lilli V/H Zomerbloemhof now classified VG-89!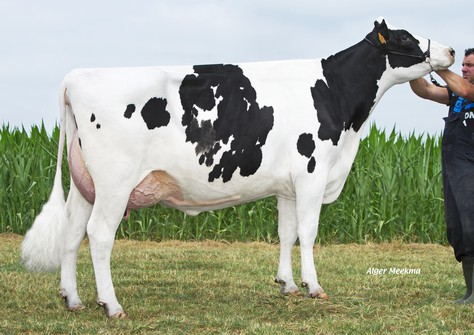 General
Lilli V/H Zomerbloemhof RDC VG-89
Recently, it was time for a classification at the Flemish Van het Zomerbloemhof. A number of 21 milking heifers got a stunning average total score of 84.1 points. In addition, a group of cows were rescored, including the impressive Dukefarm Director daughter Lilli V/H Zomerbloemhof RDC. She was awarded with VG-89/EX-90 FR in her third lactation.
The Flemish beauty Lilli V/H Zomerbloemhof RDC has been photographed in her first lactation. Even then she showed a lot of quality and strength. Two lactations later she still does! With a great score of VG-89 with EX-90 for her frame she combines show type with tremendous milk production. Lilli VG-89 her third lactation is projected at 16,639 kgs of milk with 4.71% fat and 4.02% protein in just 305 days! She comes from a deep American cow family, which also includes Astrahoe LJ Rosa Rebel EX-92.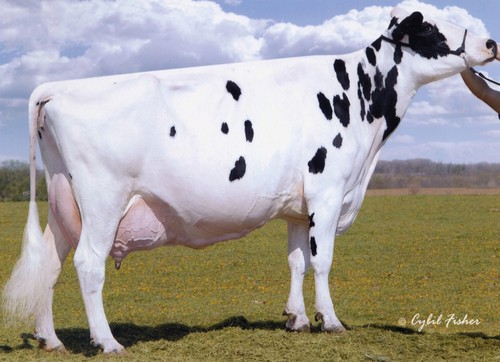 Astrahoe LJ Rosa Rebel EX-92, (s. Linjet) 4th dam of Lilli VG-89
The second calver Marieclaire V/H Zomerbloemhof (s. Kingboy) was also classified VG-89. Marieclaire VG-89 is a descendant of the beautiful Rabur Outside Pandora EX-91. Her dam is also well known in the Netherlands. This is Holec Mogul Panzul VG-88, Reserve Intermediate Champion  at the U.F.F. Show Houten 2019.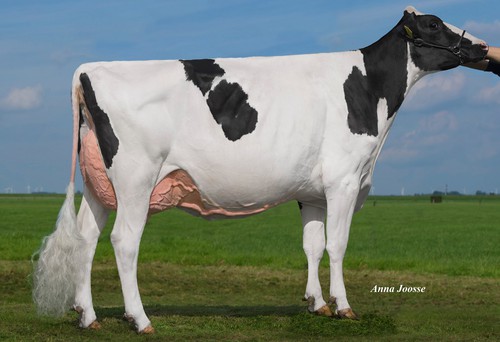 Holec Mogul Panzul VG-88, dam of Marieclaire VG-89
The highest classified milking heifer of Van het Zomerbloemhof is Niekie V/H Zomerbloemhof with VG-87. In addition, she received a maximum score of VG-89 for her dairy strenght. Nieke VG-87 is a KH Cinderdoor daughter from the very popular MS Kingstead Chief Adeen EX-94 cow family.
The final average total score of this classification day went up to 84.3 points. The highlights of this day can be found below:
| | | | | | | | | | |
| --- | --- | --- | --- | --- | --- | --- | --- | --- | --- |
| NAME | SIRE | DAM | COL | Lac | FR | DS | MS | FL | TOT |
| Lilli | Director | Jorigi VG-87 | Z | 3 | 90 | 89 | 88 | 88 | 89 |
| Marieclaire | Kingboy | Panzul VG-88 | Z | 2 | 88 | 89 | 89 | 89 | 89 |
| Liefke | Estate | Isalinde GP-84 | Z | 2 | 87 | 87 | 88 | 88 | 88 |
| Niekie | Cinderdoor | Kiekie VG-85 | Z | 1 | 87 | 89 | 87 | 83 | 87 |
| Mirage | Adorable | Chrissy | Z | 1 | 86 | 85 | 86 | 85 | 86 |
| Nanadu | Superfly | Liesbeth GP-84 | Z | 1 | 84 | 85 | 86 | 86 | 86 |
| Noortje | Upright | Josefien VG-86 | Z | 1 | 87 | 86 | 84 | 86 | 86 |
| Nutella | Jedi | Koba GP-84 | Z | 1 | 85 | 84 | 86 | 87 | 86 |
| Leila | Reflector | Isolde | Z | 3 | 85 | 84 | 83 | 87 | 85 |
| Mellow Cake | Baltikum | Ice-Cream VG-86 | Z | 2 | 87 | 88 | 83 | 84 | 85 |
| Nisalien  | AltaRabo | Isalien GP-83 | Z | 1 | 85 | 85 | 87 | 84 | 85 |