HWH K&L Aik Zalia RDC classified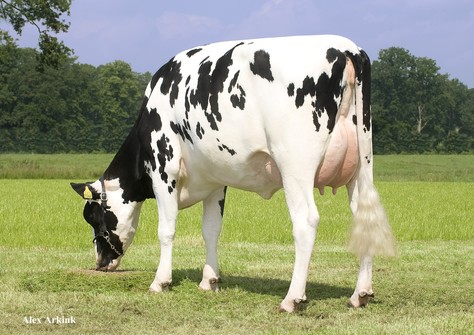 Type
Kossinkhoeve Zadia 1 VG-86, dam to Zalia RDC
HWH K&L Aik Zalia RDC is classified VG-88 as a 2-yr old at Caudumer Holsteins. The Aikman daughter looks very good and is projected at 10.124 kg of milk with 4.68% fat and 3.89% protein. Her pedigree goes through a VG-86 Planet and a VG-88 Shottle back at Veenhuizer Zadia 7 EX-91 (Jesther x VG-89 Esquimau x VG-87 Blackstar x EX-90 Rotate x Kemview Mark Zsa Zsa EX-90).
Offspring
Caudumer Holsteins has daughters sired by Mega-Watt, Sunfish and Finder out of Zalia. Her Sunfish daughter, Caudumer Zalia 1 RDC, scores +301 GNVI (B&W-basis) and her Finder daughter, Caudumer White Beauty, also has an GNVI of over +300.
Aalshorst Holsteins and K&L own a red carrier Barolo daughter of Zalia RDC. This Aalshorst K&L Zalia 1  (+315 GNVI / +155 GRZG) hails just as her dam out of the K&L Embryoprogram.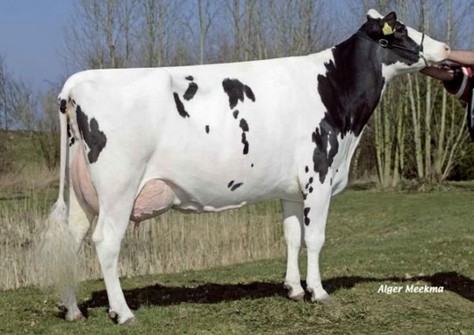 Veenhuizer Zadia 7 EX-91, the Jesther great-granddam to Zalia RDC