Daughter of Miss Apple Snapple EX-96 sold to Captein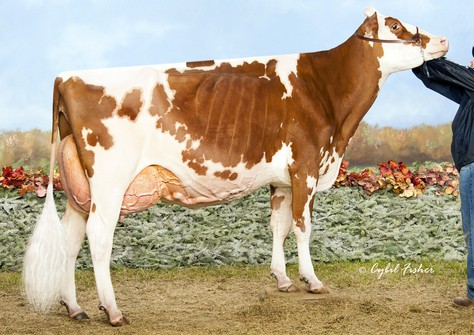 General
Miss Apple Snapple Red ET EX-96
The Captein family (Capnation Holsteins) made a great purchase recently. They have become proud owners of Milksource LB Snapple RDC, a daughter of the newly EX-96 classified Miss Apple Snapple-Red (s. Redburst Red)!
Milksource LB Snapple RDC is a Blondin Thunder Storm daughter of Miss Apple Snapple-Red, and is herewith the granddaughter of the world famous KHW Regiment Apple EX-96! There was no better timing, as this week Miss Apple Snapple-Red boosted her score from EX-95 to a great EX-96 with EX-96 MS! Apple Snapple-Red is the Grand Champion Midwest National Red & White Spring Show 2019, Unanimous All-American R&W Four Year Old 2017 and Reserve All-Canadian R&W Senior Cow, 2017. Right now GenHotel has embryos available from Snapple Red EX-96 her Apple-Crisp granddaughter (Windlooper Arizona) at the online EmbryoSale. This gives you the unique opportunity to get your own Moovin RDC (sex.) offspring from this awesome family!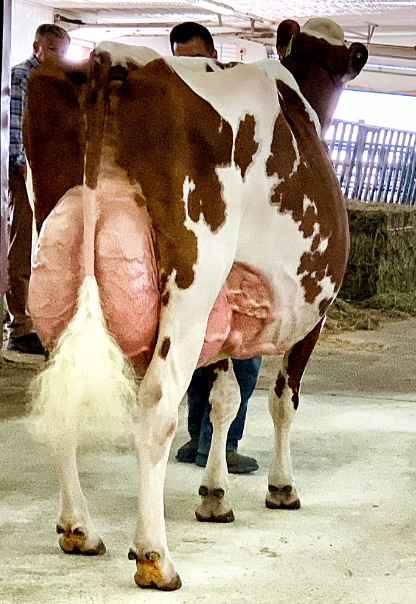 ​Miss Apple Snapple-Red during her re-classification of EX-96! (Picture:  MilkSource Genetics)
It is possible that the Captein family has purchased the future 9th generation Excellent! For now, LB Snapple RC knows how to prove itself through her genomics profile. She scores +2.82 PTAT with +2.43 UDC on the American base!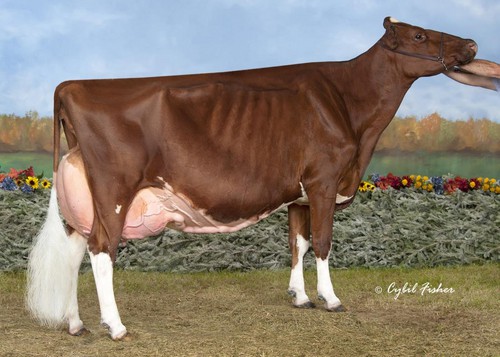 KHW Regiment Apple-Red EX-96, granddam of Milksource LB Snapple RDC