New picture of K&L SV Sunny Red!
General
K&L SV Sunny pictured as a heifer
You may recognize the fantastic breeding heifer K&L SV Sunny Red by seeing the top image, however we can now introduce you to the beautifully picture of K&L SV Sunny Red in her first lactation!
Recently, the Mr Salvatore RDC daughter was photographed for the second time at Melkveebedrijf De Oosterhof. K&L SV Sunny Red is producing very well during her first lactation and is projected (305 days) at 11,228 kgs milk with 4.15% fat and 3.28% protein (32% over herdaverage). Her dam is EDG Rubicon daughter Schreur Sunny RDC, also dam of the full brother of Sunny Red: Schreur Shimmer RDC at Genus/ABS. Sunny Red proves her breeding power already at a young age. There are now more than thirty descendants at home and abroad! Sofar three sons are at AI studs and Sunny Red also has bred numerous high testing daughters already. She still manages to attract attention of international AI-organisations!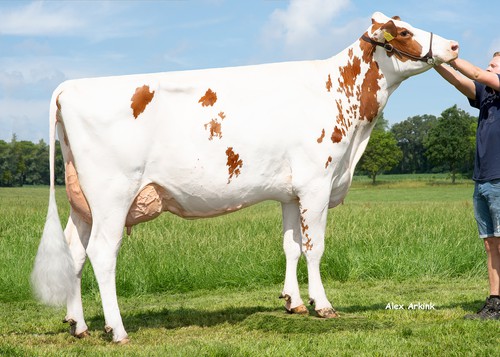 K&L SV Sunny Red (s. Mr Salvatore RDC)
One of her most impressive female offspring is also photographed. A mating with Rubels-Red resulted in a wonderful outcome: 3STAR OH Sunnyside Red. With a genomics profile which stands out, she will get a lot of attention from sire analysts. This is mainly due to her 163 gRZG & 2837 gTPI,  which makes her the global number 1 gTPI red Rubels-Red daughter as well as one of the absolute top Red Holstein females worldwide. In addition she also traces back to the very successful cow family of Des-Y-Gen Planet Silk RDC EX-90 and Glen-Drummond Splendor VG-86 CAN!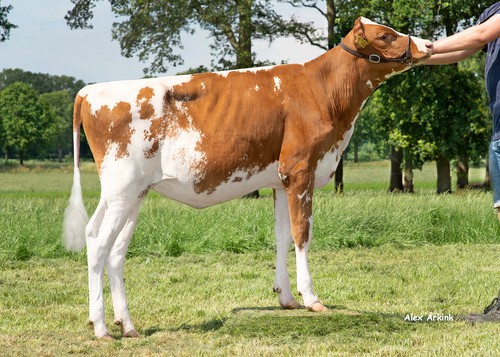 3STAR OH Sunnyside Red, daughter of Sunny Red
Both K&L SV Sunny and her daughter 3STAR OH Sunnyside Red are results of the great collaboration between the owners and breeders De Oosterhof and 3STAR Genetics.