Classification Bacchus Holsteins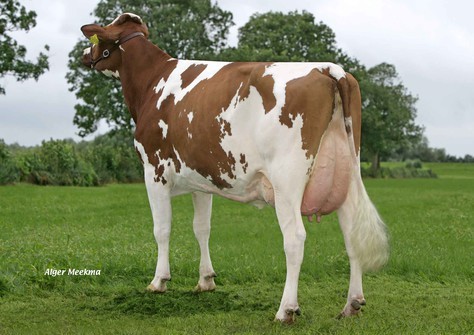 General
Bacchus Scarlet Z Red VG-87, dam of Bacchus Scarlet Z 10 RDC VG-85
At Bacchus Holsteins recently 28 milking heifers are scored, including 3 Red Holstein heifers with in average 85.0 total score and 85.7 points for mammary. Also several cows are rescored, like the 3rd lactation and highest producing cow in the herd Bacchus Eliza Mae 6, an O Daddy out of the Whittier-Farms Lead Mae EX-95 family, now scored VG-89 and EX-90 MS. Three cows are rescored VG-88: Bacchus Rita 604 Red (s. Applejax RDC) with VG-89 MS, Bacchus Kavien 30 Red (s. Pitbull RDC) and Bacchus Ikessy 2 P RDC (s. Mitey P RDC).
A very special cow is bulldam Bacchus Aukje 448 W Red, a red lineback Fun P daughter scored now VG-87 in her second lactation. Her lineback son of Mars Laurent P RDC is purchased by CRV and soon she will be flushed with Jacko PP Red.
Highest scored 2-yr-old this round is Bacchus Renske 112 RDC, a VG-88 Jotan-Red x Goldwyn from the homebred Renske family. Also Bacchus Aukje 453 Red, a fancy Julandy-Red x Zabing RDC, is descending from an own bred cow family and classified VG-87 & VG-87 MS. Bacchus Hiawatha 7 P RDC, a polled and red carrier Kansas P Red daughter out of the Golden-Oaks Mark Prudence EX-95 family, is also scored VG-87 (VG-86 MS).
|   Name  |   Sire x MGS |   Cow family | Lac | FR | DS | MS | FL | TOT |
| --- | --- | --- | --- | --- | --- | --- | --- | --- |
| Bacchus Renske 112 RDC | Jotan-Red x Goldwyn  | Bacchus Renske | 1 | 89 | 89 | 86 | 89 | 88 |
| Bacchus Aukje 453 Red | Julandy-Red x Zabing RDC | Bacchus Aukje | 1 | 87 | 87 | 87 | 86 | 87 |
| Bacchus Hiawatha 7 P RDC | Kansas P Red x Goldday | Golden-Oak Prudence | 1 | 88 | 86 | 86 | 87 | 87 |
| Bacchus Tex-B 3 RDC | Julandy-Red x Goldday | Art-Acres Tex B | 1 | 85 | 87 | 87 | 86 | 86 |
| Bacchus Tonia 26 P RDC | Ocean PP x Xavi-Red | Bacchus Tonia  | 1 | 88 | 87 | 86 | 85 | 86 |
| Bacchus Alicia 14 RDC | Passe-Red x Goldday | Shoremar S Alicia | 1 | 78 | 83 | 88 | 88 | 85 |
| Bacchus K&L Hayley 7 | Anamur x Balisto | Snow-N D Dellia | 1 | 86 | 87 | 86 | 83 | 85 |
| Bacchus Scarlet Z 10 RDC | Leonidas RDC x Acme RDC | Windsor-Manor Zip | 1 | 84 | 83 | 85 | 87 | 85 |
| Bacchus Jaantje 375 RDC | Talentino-Red x Malando-Red | Korver Jaantje | 1 | 84 | 85 | 84 | 86 | 85 |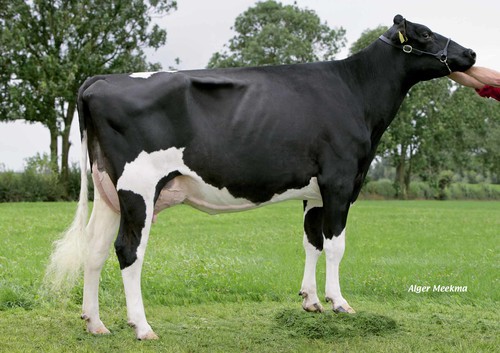 Bacchus Eliza Mae VG-89 (s. Alexander), dam of Bacchus Eliza Mae 6 VG-89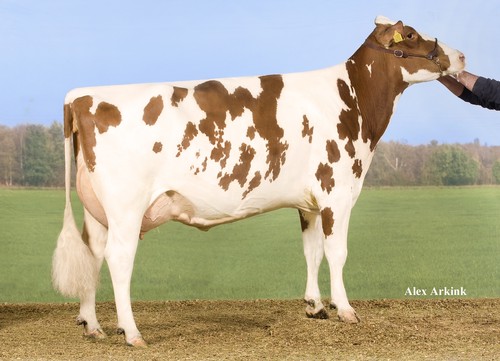 Willem's Hoeve Rita 0438 Red VG-87, granddam of Bacchus Rita 604 Red VG-88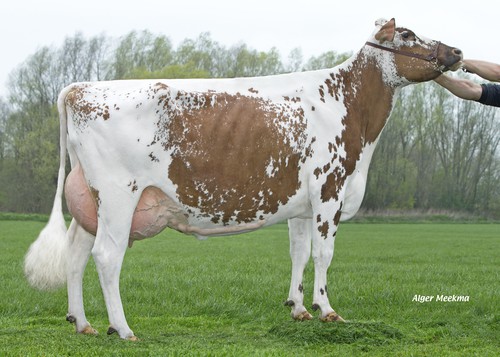 Bacchus Aukje 448 W Red VG-87 (Fun P Red x Murphy), bulldam for CRV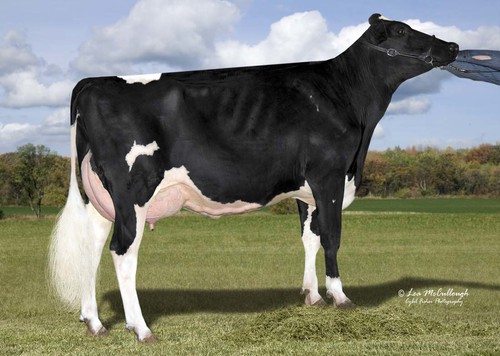 Cookiecutter Mom Halo VG-88, granddam of Bacchus K&L Hayley 7 VG-85