Classification & 10.000 kg F+P at Midwolder Holsteins
General
Midwolder Marjon 150 VG-85 (s. Jett)
At Midwolder Holsteins, the Van Erp family in the Netherlands, recently 15 milking heifers are scored averaging 83.9 points final score and 84.4 for udder. Three heifers are classified VG-87, including the two full sisters Midwolder Susan 230 & 231, both Bandares daughters of Midwolder Susan 164 VG-87.
The third VG-87 heifer is Midwolder K&L Caren, a Baltikum daughter out of the Tirsvad Luke Classic EX-90 family. Caren is equiped with a firm attached, high and wide udder (VG-89 MS, max. score) and is producing very well. She has already 7 milk recordings over 40 kgs/day and is projected (305 days) 11.382 kgs with 4.07% fat and 3.53% protein, 12% over herdaverage.
Midwolder Marjon 150, a S-S-I Montross Jett daughter from the renown Remarlinda EX-90 family, is scored VG-85 and projected 11.710 kg with 4.30% fat and 3.63% protein (+17%). She is flushed as a heifer several times and has already 8 daughters over 300 gNVI, including a Magnet with 400 gNVI, a Bonjour with 397 gNVI and a Casino 382 with gNVI.
A cow for sure worth mentioning is the already 13-year-old Win 395-daughter Midwolder Susan 113 VG-86. She is the oldest cow in the Midwolder barn and has sofar produced in 10 lactations 128.487 kgs milk with 4.69% fat and 3.32% protein. With that great achievement she has also reached the milestone of 10.000 kgs fat and protein.
|   Name  |   Sire x MGS |   Cow family | Lac | FR | DS | MS | FL | TOT |
| --- | --- | --- | --- | --- | --- | --- | --- | --- |
| Midwolder K&L Caren | Baltikum x Anton | Vir-Clar De Classy | 1 | 84 | 88 | 89 | 85 | 87 |
| Midwolder Susan 230 | Bandares x AltaIota | Midwolder Susan | 1 | 86 | 87 | 87 | 87 | 87 |
| Midwolder Susan 231 | Bandares x AltaIota | Midwolder Susan | 1 | 88 | 88 | 85 | 88 | 87 |
| Midwolder Marjon 157 | Applicable x Machel | Remarlinda | 1 | 86 | 86 | 87 | 85 | 86 |
| Midwolder Marjon 150 | Jett x Vitesse | Remarlinda | 1 | 86 | 86 | 84 | 86 | 85 |
| Midwolder Bella | Nugget x Defender | Naurine | 1 | 85 | 85 | 84 | 86 | 85 |
| Midwolder Susan 232 | Bandares x AltaIota | Midwolder Susan | 1 | 85 | 84 | 84 | 87 | 85 |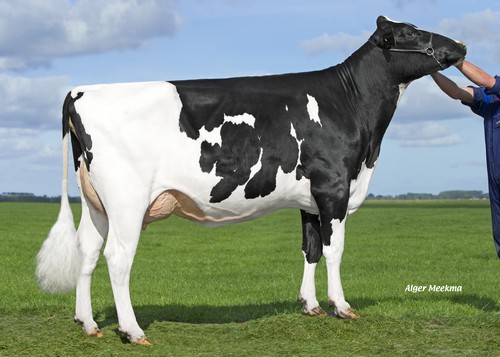 Broeks Banru, fancy Wa-Del Bandares from the De-Su BWM Georgia EX-90 family,
purchased as a heifer a the German Selection Sale 2018  (not scored yet)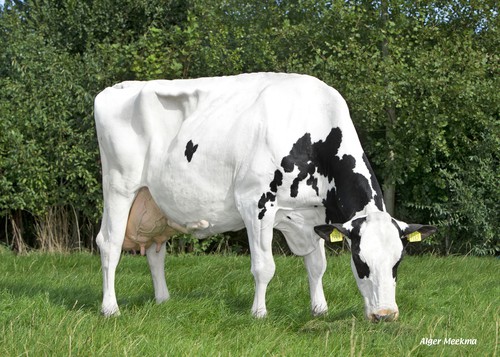 Midwolder Susan 113 VG-86 (s. Win 395),
lifetime production 128.487 kgs milk with 4.7% fat & 3.3% protein, 10.000 kgs F&P