2 Fancy Beemer daughters for Upstream Holsteins
Type
Bremer Damion Wendy EX-92, grootmoeder van De Veelhorst Shiskey
De Veelhorst Whiskey and Holec Beemer Redrose are two very fancy daughters of the awesome type-bull Pol Butte Mc Beemer (McCutchen x VG-88 Goldwyn x EX-92 Shottle x Regancrest-PR Barbie EX-92). Both these heifers are owned by Upstream Holsteins and housed at Lakeside Holsteins and hail from world-famous cowfamilies with great type.
De Veelhorst Whiskey
The dam to De Veelhorst Whiskey is HS Wisconsin, an Alpine daughter owned by De Veelhorst Holsteins. Next dam, Bremer Damion Wendy EX-92, is sired by Damion and hails out of an VG-86 Goldwyn of Regancrest-Mws Brit EX-90, the Blitz dam to Fustead Goldwyn Guthrie. This pedigree goes via daughter of Patron and Melwood back at none other than Snow-N Denises Dellia EX-95.
In the pedigree of Whiskey we can find awesome broodcows such as Regancrest-PR Barbie (through Beemer), MD-Delight Durham Atlee (trough Alpine) and Snow-N Denises Dellia (via Damion and this maternalline). No wonder Whiskey scores a very high PTAT!
Holec Beemer Redrose
Holec Beemer Redrose hails from a proven family as well. Her 5th dam is namely Lavender Ruby Redrose EX-96, two-times Grand Champion R&W at the World Dairy Expo (2005 & 2007) and a great-granddaughter of Stookey Elmp Park Blackrose EX-96, herself an great showcow as well.
This branch of the Blackrose/Redrose family is quite successful in the showring as well. The dam to Beemer Redrose is Holec Redrose Jobra RDC. This Braxton daughter was classified with the maximum score of VG-89 as a 2-yr Old and was named Reserve Junior Champion at the CRV Koe Expo 2015. She was classified EX-90 last week with EX-92-MS! Jobra dam is a VG-88 classified Jotan daughter out of Holec Blackrose Trina VG-88 RDC, an Advent granddaughter of the legendaric Redrose.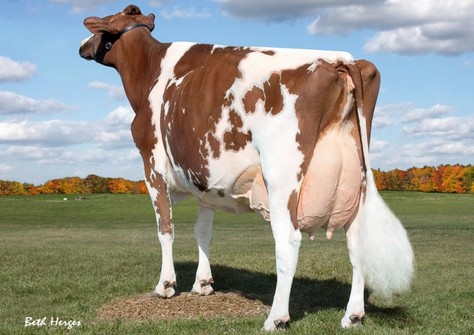 Lavender Ruby Redrose EX-96