13 Generations VG/EX at Hedra Holsteins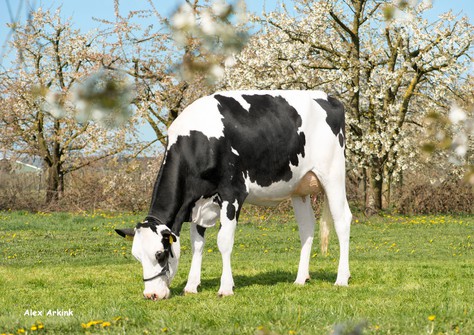 General
Hedra Remarlinda 810 VG-88, dam of Hedra Remarlinda 1120 VG-88
During Hedra Holsteins' classification day several 2-yr-olds turned got really nice scores! No less than eight 2-yr-olds and two young cows met the classifier. A VG-88 score for one of the first calvers made the Vernooij family owner of a 13th generation with Very Good or Excellent! 
The VG-88 score was for Hedra Remarlinda 1120 (by Delta Lendor). Her super udder attachment and her rear udder height made her also score VG-88 MS!  Remarlinda 1120 VG-88 is a member of the famous European Remarlinda EX-90 family, and is with her amazing score the 13th generation with VG or EX in a row!
Another Remarlinda, Hedra Remarlinda 110, scored VG-85/VG-87 MS. This 2-yr-old is also sired by Lendor and a halfsister of Remarlinda 1120 VG-88's dam Hedra Remarlinda 810 VG-88.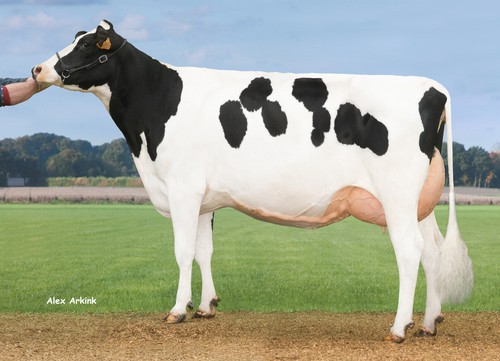 Delta Riana VG-89 (by Nelson) dam Hedra Remarlinda 110 & maternal sister Hedra Remarlinda 810 VG-88
The Willem's Hoeve Rita family was well represented by Hedra Rita 1178 Red (s. Kingfarm Holsteins Anreli-Red). With VG-88 for her feet & legs it was no suprise her total score went up to VG-87! Rita 1178 VG-87 is part of a influential cow family and one of her known ancestors is greatgranddam Willem's Hoeve Rita 885 VG-85, full sister of progeny proven bull Willem's Hoeve R Browning. This red 'Rita' produces great components and is projected at 4.40% fat & 3.61% protein in 305-days.
She's not the only Red Holstein classified at Hedra Holsteins, also Delta Aafke Red VG-86/VG-88 FR (s. Delta Jim P-Red) and Hedra Alumette 1119 Red GP-84/VG-87 FR, sired by Delta Jetski-Red, met the classifier that day.
All eight 2-yr-olds made a big impression according the average total score of VG-85.9! Scores went from GP-84 to VG-88, below you'll find the highlights:
| | | | | | | | | | |
| --- | --- | --- | --- | --- | --- | --- | --- | --- | --- |
| Name | Sire | Dam | Col | Lact | FR | DS | MS | FL | TOT |
| Remarlinda 1120 | Lendor | Remarlinda 810 VG-88 | B | 1 | 88 | 86 | 88 | 87 | 88 |
| Rita 1178 | Anreli-Red | Riva GP-83 | R | 1 | 87 | 86 | 87 | 88 | 87 |
| Annecy 898 | Concert | Annecy 489 VG-86 | B | 2 | 86 | 87 | 85 | 86 | 86 |
| Alumette 1101 P RDC | Ranger | Abby P Red VG-86 | B | 1 | 85 | 84 | 87 | 87 | 86 |
| Marie 1108  | Radiator | Monique VG-86 | B | 1 | 86 | 86 | 87 | 86 | 86 |
| Aafke | Jim P-Red | Abby P Red VG-86 | R | 1 | 88 | 85 | 86 | 84 | 86 |
| Alumette 722 RDC | Brasil RF | Alumette 523 Red VG-86 | B | 3 | 86 | 85 | 86 | 84 | 85 |
| Remarlinda 1104 | Lendor | Riana VG-89 | B | 1 | 85 | 84 | 87 | 82 | 85 |
| Rita 1159 | Reloader | Riva | B | 1 | 85 | 84 | 85 | 84 | 85 |