VG from Sunnylodge Prelude Spottie family at Exloër Holsteins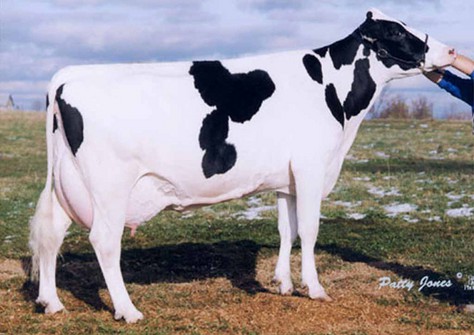 General
Sunnylodge Prelude Spottie VG-87
The Dollen family, also known by their prefix Exloër Holsteins, owns several descendants of Sunnylodge Prelude Spottie VG-87. The first are fresh with their first calf and one had the honor to meet the classifier recently. This Canadian cow family knows how to handle success and a new VG-classified family member is surely another one to remember!
At Dollen's dairy farm there are two Silverridge V Imax full sisters, both in first lactation. Through the former no. 2 gRZG 2-yr-old DKR Bayla VG-86 they descend from the Canadian Cow Of The Year - Sunnylodge Prelude Spottie VG-87. One of them, Exloër Brenda, is lately classified with a great score of VG-85 and VG-86 MS! Brenda has been flushed several times as a virgin heifer. Matings with sires like KNS Simon P, Koepon AltaTop-Red, Peak Chilton and Genesland Bellroy worked very well! From the last named sire Exloër Belle is born. Belle her RZG profile shows impressive numbers like 150 gRZM & 124 gRZN, resulting in a great total index of 160 gRZG!
Brenda VG-85 turned out to be a great bull dam. Her young KNS Simon P son, 3STAR Signal P @RUW scores an impressive German index of 159 gRZG and will be a popular sire of sons!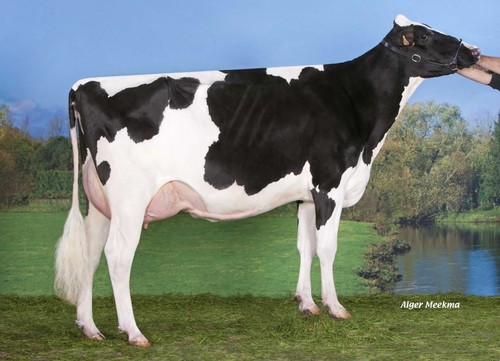 DKR Bayla VG-86 (by Garret), 4th dam of Brenda VG-85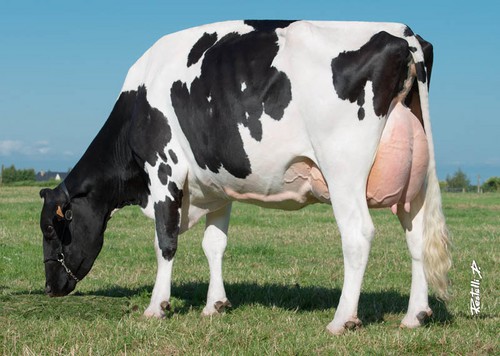 Baviere VG-87 (by Shottle), 5th dam of Brenda VG-85