Get a glimpse of ARGH Feline VG-86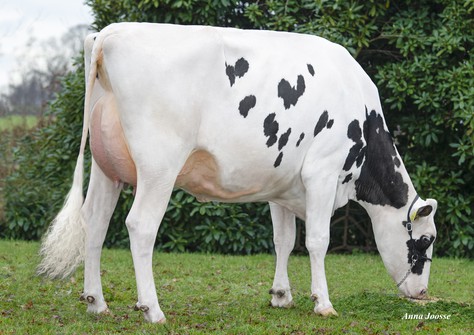 General
ARGH Feline VG-86, VG-88 MS
ARGH Feline VG-86, by Car-J Brokasa Delight, was purchased in 2018 by Beeze Holsteins and Oldleus Holsteins. Now, in her first lactation, Feline VG-86 is photographed for the first time and she looks lovely! 
ARGH Feline VG-86 descends through her German dams from Quality Astre Felic EX-95, the full sister to Quality Astre Felice EX - Canadian Cow of the Year 2002. This Delight daughter grew up to be a fantastic brood cow herself, because she has already five daughters which score an average of +3.13 gPTAT. And with a score of VG-86 Feline is the 10th generation of VG/EX in a row! One of her big pro's is her extremely well attached rear udder, that is scored VG-88 during a recent classification.
If you want to get into the awesome Quality Astre Felic EX-95 cow family, you can invest in embryos of Feline VG-86 her Crushtime daughter Beeze Oldleus Faith (+3.31 gPTAT). Right now there are embryos available produced with sexed Golden-Oaks Master (+3.64 gPTAT / +16 Conformation). The embryos will give you a big opportunity to get your own next VG or EX Felic EX-95!
Check the GenHotel Embryo Sale and make a bid at lot 487!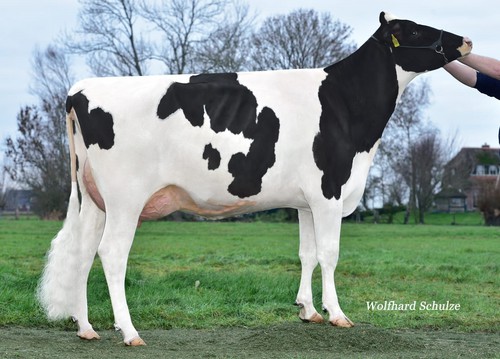 Feline VG-86 her dam WI Beemer Felli VG-87 (s. Beemer)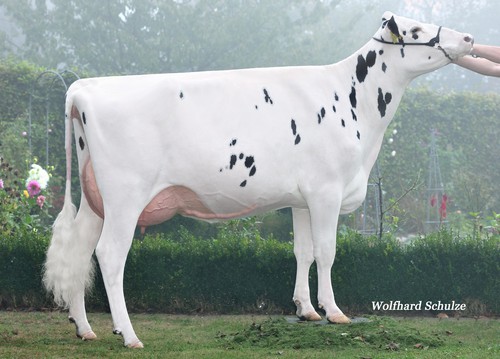 Feline VG-86 her dam GHH Delta Felicity VG-86 (s. Mr Hovden Delta)