Super day for Van Der Eijk Holsteins
Type
Champion Herdgroup Competition Van Der Eijk Holsteins
Last Monday Van Der Eijk Holsteins, of Marcel, Matt & Finn Van der Eijk, had a super successful day at the annual Dairy Show in Opmeer.
► At the milking heifer classes the renown Bolleholster Adele VG-89 (s. Pitbull RDC) was crowned Junior Champion. Earlier this year Adele was first in her class at the European Championship in Libramont and subsequently classified with the maximum score (VG-89) for all major type traits.
► Reserve Junior Champion was HAM Hulapalu, the very fancy Toc-Farm Fitz (Doorman x Snowman) daughter out of the family of the German HAM Hawai EX-94. Hawai is the Grand Champion "Tarmstedt 2008" and winner of the Senior Cows at the Schau Der Besten 2010. Hulapalu is co-owned by Van Der Eijk and Jan Aalberts and purchased as a heifer at the VOST Select Sale 5.
► In the intermediate classes the gold was for the well developed Bolleholster Anya 4 VG-88, the beautiful Ms Chassity Gold Chip daughter from the Ms Kingstead Chief Adeen EX-94 family. Last year Anya 4 was the Reserve Junior Champion Middenmeer, her Sanchez dam was Senior Champion Dairy Show Friesland 2017. Both Adele and Anya 4 are bred by Bolleholster Holsteins, Jan van der Wal, Bartlehiem.
► In addition the highest honour for the best herd groups was also a prey for Van Der Eijk Holsteins. With the 3 above mentioned individual champions in the group Van Der Eijk received the title "Best herd group Opmeer 2019".
Photo's : A. Landman.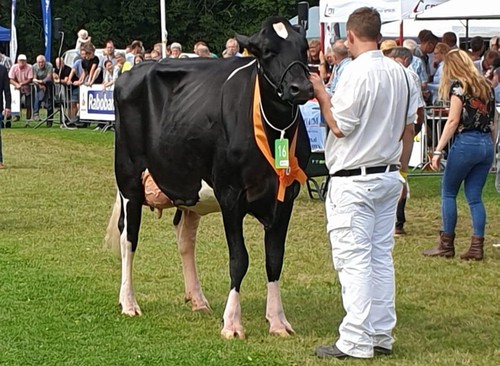 Bolleholster Adele VG-89 (s. Pitbull RDC), Junior Champion Opmeer 2019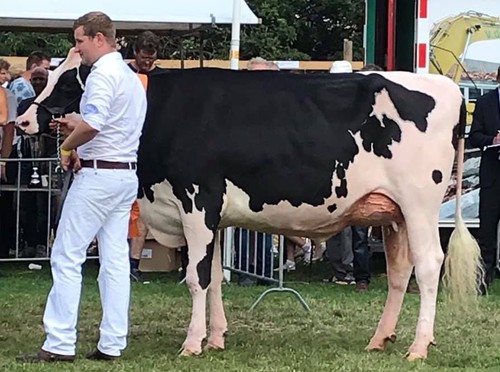 HAM Hulapalu (s. Fitz), Reserve Junior Champion Opmeer 2019

Bolleholster Anya 4 VG-88 (s. Gold Chip), Intermediate Champion Opmeer 2019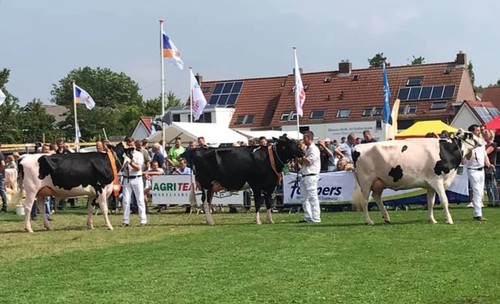 Best herd group Opmeer 2019, Van Der Eijk Holsteins