Marie 356 Grand Champion at the RSN Show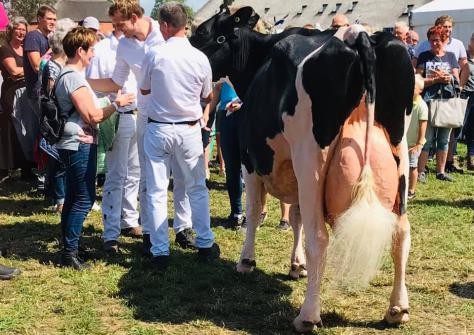 Type
Marie 356 EX-92 (s. Goldwyn), Grand Champion Lhee 2019
Marie 356 EX-92, the fabulous Goldwyn daughter of Alex Verwaijen, Prairie Hoeve Holsteins, is honoured as Senior Champion at the Rundvee Show Noord 2019 in the Netherlands. The 10 year old Marie has already produced 85.000 kgs of milk with 4.29% fat and 3.60% protein. She was in great shape again last Saturday and became Grand Champion as well. Earlier that day, Marie was sold at the Mid Summer Sale, her new owner is Rens Mulder in Dwingeloo.
Also Prairie Hoeve Hendrika 82 EX-90, the Larcrest Contrast daughter from the Reserve Intermediate Champion NRM 2014 and HHH Show 2014 Prairie Hoeve Hendrika 39 EX-91, was very successful. Hendrika 82, bred by Verwaijen and owned now by Harry Schuiling, Nijeveen, was first in her class and became Intermediate Holstein Champion.
Drouner Holsteins had even 8 milking females 1st, 2nd or 3rd in the class. In the second class milking heifers Drouner Asmara 1443 (s. Doorman) and Drouner Cosmo 1446 (s. High Octane) ended up 1st & 2nd in the class. Also at the Junior Show Drouner Holsteins reached four top-3 positions and was Reserve Champion Herd collection Junior Heifers.
Bosma Holsteins, Maikel Bosma in Wijster, was very successful with Lakeside Ups Ashtime-Red, a fancy Cycle McGucci Jordy-Red out of the Tri-Day Ashlyn EX-96 family. Ashtime-Red, co-owned with Heerenbrink Holsteins, was Reserve Champion Senior Heifers.
Red Rocks Holsteins, the Wesselink family in Beilen, was present with several red cows at the RSN show. In the battle for the best red herd collection Red Rocks Holsteins ended up second.
Pictures : A. Landman & H. Lomulder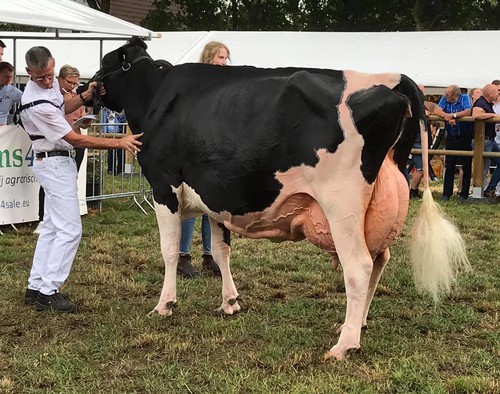 Marie 356 EX-92 (s. Goldwyn), first in the class with oldest cows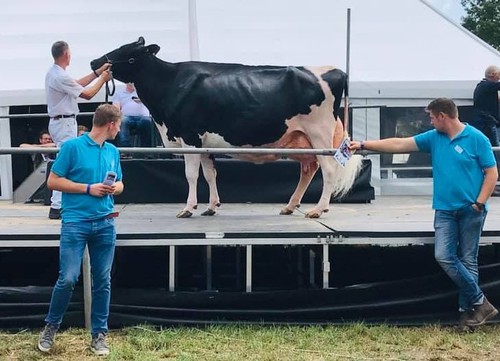 Marie 356 EX-92 (s. Goldwyn), sold at the Mid Summer Sale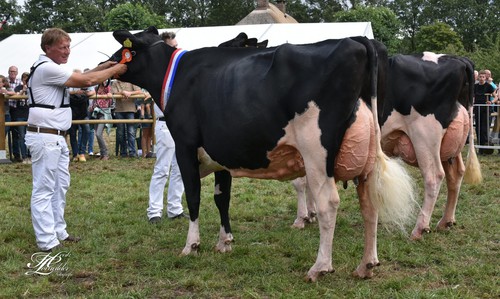 Prairie Hoeve Hendrika 82 EX-90 (s. Contrast), Intermediate Champion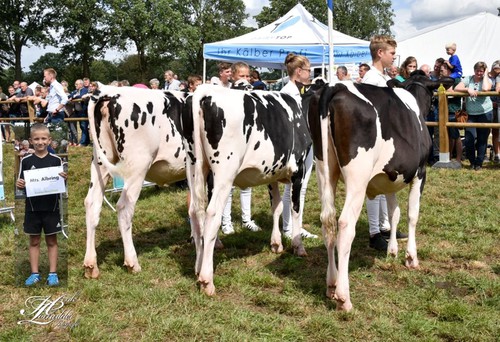 Drouner Holsteins, Reserve Champion Herdgroups Junior Heifers, RSN Lhee 2019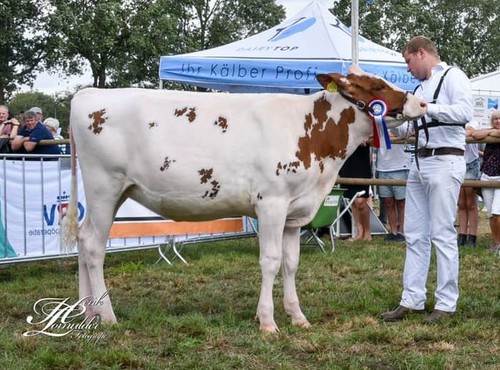 Lakeside Ups Ashtime-Red (s. Jordy-Red), Reserve Champion Senior Heifers

Red Rocks Holsteins herd group RSN Lhee 2019