Stunning milk recording year for LisLéck Holsteins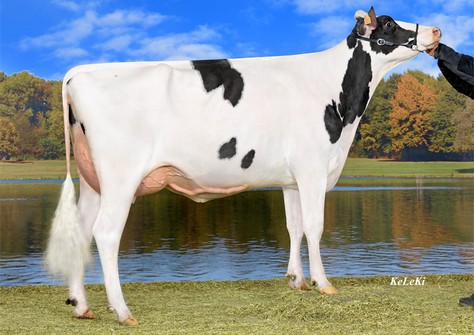 General
The No. 1 producing cow of Luxemboug: Lis Opal EX-91
At the end of 2020, the milk recording results for the year 2019-2020 were published in the Luxembourg journal 'De lëtzebuerger ziichterer'. In this, GenHotel member LisLéck Holsteins (owned by Christian & Marianne Lis-Vaessen) was able to place itself several times in the top rankings.
During 2019-2020, the Lis-Vaessen family milked 260 cows (average age of 4.02 yr), which produced 12,122 kgs of milk with 4.00% fat and 3.50% protein, all with a calving interval of just 388 days! This abolute top production made the LisLéck Holsteins herd the best producing dairy herd in Luxembourg in the category 'Dairy herd >200 cows'.
In the list of 'The best B&W producing heifers' we found at least 8 times 'LisLéck' in the top 10. Also the R&W heifers perform very well, since in the top 10 we also find 4 heifers from this top dairy farm.
The best producing heifer from Luxembourg during 2019-2020 is Col Oboard, by Board from de Hickorymea Bwood Ossie P EX-91 family. In 2016 she was purchased at a German Sale. Placed first in the list of Red heifers is Lis Mykona. This Great-Red daughter achieved a total fat+protein production of a stunning 1,058 kg, and in combination with her milk production of 13.012kg she left the others far behind! 

Bron: de lëtzebuerger ziichter 4-2020, pag. 19
The second calver Lis Opal EX-91/92MS proves that the young heifers of Christiaan and Marianne managed to develop into fantastic dairy cows. This Seagull-Bay Silver x Lis De-Su Oak 8255 VG-85 produced a skyhigh 305d. production of 15,307kg of milk 5.25%F & 3.42%P! Opal EX-91 is the full sister of the proven sire Lis Souki @Masterrind & Lis Sirio @RBB. Opal EX-91 is also the dam of four sons in Germany, including Lis Granito (154 gRZG) @Masterrind by Boldi V Gymnast.

Bron: de lëtzebuerger ziichter 4-2020, pag. 20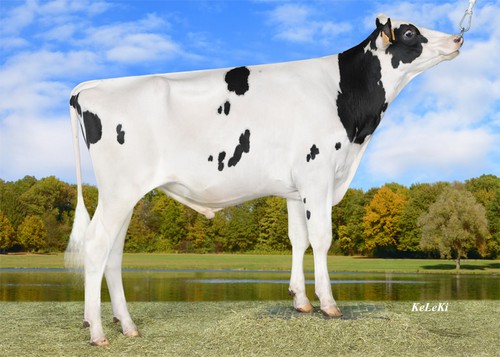 Lis Granite (Gymnast x Lis Opal EX-91)
LisLéck Holsteins also enjoys the new 10.000 kg fat & protein milestone of the 10-year-old Tableau daughter Lis Geena RDC EX-90!

Lis Geena RDC EX-90/92 MS (s. Tableau) 
GenHotel congrats the Lis-Vaessen family with this huge achievement!