Simone, the NVI topper at Poppe Holsteins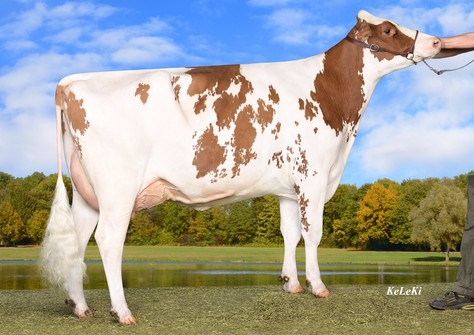 Genomics
Wilder Saturn P Red GP-84 (s. Apoll P Red), granddam of Poppe Simone RDC
The Massia cow family, already in the interest of sire analysts for many years, has delivered numerous high scoring proven bulls in both Germany and The Netherlands, like Fireman Red, Sanderij Payback Red, Kairo Red, Delta Valentino and Camion & Delegate van de Peul. Also high genomic young sires as Mission P RDC, Born P, Delta Powerline P, Dukefarm Director Red and Red Rocks Action Red & Sakai Red trace back to the high producing Massia family.
Poppe Simone RDC, a Cal-Roy-Al Yoda daughter at Poppe Holsteins, has recently received her Dutch genomic evaluation, scoring a huge 402 gNVI! The combination of a lot of milk and high components results in a skyhigh total production index of 600 INET, ranking in the top 10 in the Netherlands. She has favorable scores for all health traits as well, scores 107 total type (and 109 udder) and is also red carrier, what makes her a very interesting and valuable heifer.
Her dam Wilder K&L Sally Red, bred by Wilder Holsteins & GenHotel, is a red & white Mission P RDC daughter, which will calve in the course of this year. Sally is purchased by Poppe Holsteins as a heifer calf at the VOst Select Sale in 2017. Next dam is Wilder Saturn P Red GP-84 (s. Apoll P Red), with 35.000 euros topping the sale of the 1st German Selection Sale and sons of Mission P RDC and Pace Red in AI.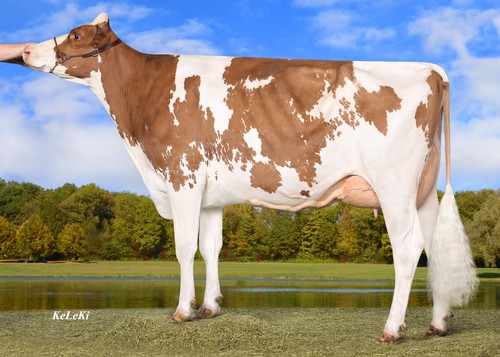 Wilder Smile Red VG-85 (s. Brekem RDC), 3rd dam of Poppe Simone RDC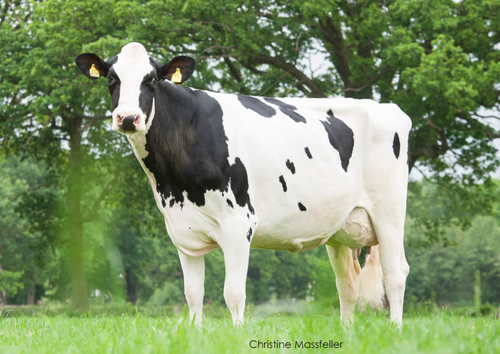 Sanderij Massia Sneeuwwitje RDC VG-87 (s. Snowman), 4rd dam of Poppe Simone RDC