Number 1 polled Skywalker at Capnation Holsteins
Genomics
Diepenhoek Rozelle 54 (s. AltaIota), 4th dam of Capnation Sky Roza P
Capnation Holsteins, the Captein family in The Netherlands, is owner of the fancy Bomaz Skywalker daughter Capnation Sky Roza P. She is a descendant from the high producing Diepenhoek Rozelle family, tracing back to a deep, Canadian cow family. Sky Roza P her dam is the one month ago calved and polled Capnation Hero Roza P (s. Endco Superhero).
Recently the German genomic result of Sky Roza P was released: she scores 154 gRZG with a nice amount of milk, positive components and favorable scores for all management traits. With this great genomic result Sky Roza P is the highest polled Bomaz Skywalker daughter in Europe! In addition she is also kappa-casein BB and beta-caseïn A2A2.
This consistent cow family has delivered several high bulls including the renown French proven sire Gibbon, Diepenhoek Rozello at CRV and Diepenhoek Overhead at Genus ABS in England. The full sister of Gibbon, Gazelle 244 EX-91 (s. Southwind), was National Champion in France, while the dam of Rozello, Diepenhoek Rozelle 25 VG-87 (s. Shottle), was Reserve Junior Champion at the Winter Show Asten-Heusden, the Netherlands.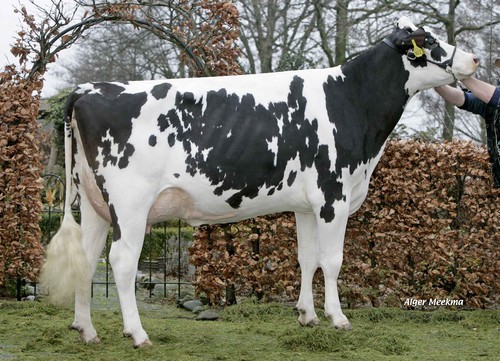 Diepenhoek Rozelle 38 VG-86 (s. Jeeves), 5th dam of Capnation Sky Roza P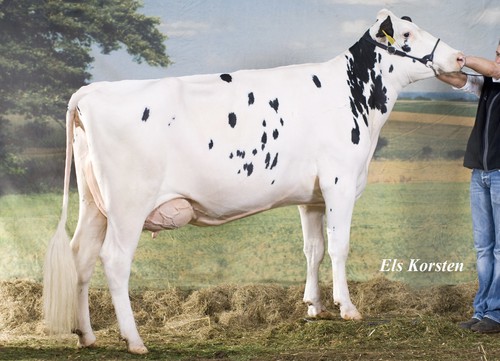 Diepenhoek Rozelle 25 VG-87 (s. Shottle), 6th dam of Capnation Sky Roza P