Newhouse Sneekers strike again!
General
Newhouse Sneeker 247 VG-89
The Newhouse Sneeker family has been the banner of the Newhouse dairy farm of the Nieuwenhuizen family for years. Time and time again the cows from this cow family show tremendous longevity and high lifetime production. Recently, two Sneekers showed again the potential of this fantastic cow family!
At the beginning of June we introduced you to Newhouse Sneeker 423 VG-88 (s. Stol Joc). By then it was already estimated that, with her high daily production, she will exceed the sublime milestone of 10,000 kg of fat and protein this year, and she did! Sneeker 423 VG-88 achieved this in just 2,961 days with a production of 132,556 kgM and 4.03% f and 3.57% p. In addition, as a 100 tons milk producer with VG-88, she also wears the Dutch predicate 'Sterkoe 1'. This Stol Joc daughter of Nieuwenhuizen still produces more than 47 kg/day. From this maternal line several bulls are also sold to AI organizations, including Sneeker 423 VG-88 her maternal brother and proven sire Newhouse Gofast (s. Goldwyn).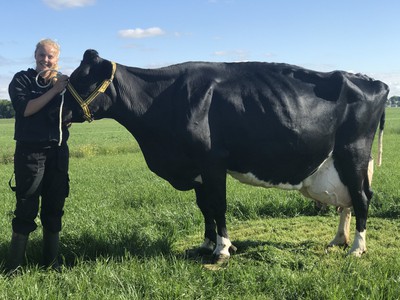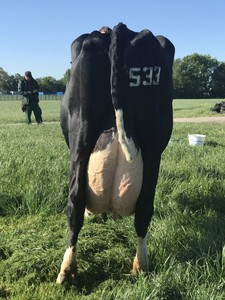 Newhouse Sneeker 423 VG-88 (s. Stol Joc) produced in just 2961 daays 10.074 kg fat and protein (pictures 5/2020)
In addition to Newhouse Sneeker 423, her Picston Shottle maternal sister is also very successful. This Newhouse Sneeker 434 is recently rescored EX-91. She achieved this through her beautiful EX-92 frame and feed & legs! In addition her lifetime production is 120,078 kgM with 4.09%f and 3.31%p.
Their dam Newhouse Sneeker 247 VG-89 (s. O Man) was a great brood cow from which more than 30 offspring are born! Like her daughters, she also achieved a lifetime production of more than 100,000 kgM.