New USA genomics EU females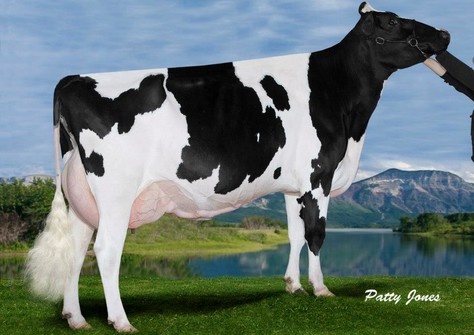 Genomics
Gen-I-Beq Goldwyn Secret VG-87, 6th dam of RZH SIE Seattle
The new USA genomic run has delivered many new high females this month. In the top 10 gTPI there are 6 new animals, sired by bulls like Claynook Discjockey, S-S-I Frazzled Rivetihing and ABS Crimson. New number 1 is Cristella Relax, an Italian Progenesis Positive with 2926 gTPI from the Windsor-Manor Rud Zip EX-95 family.
Also several GenHotel members have new females in the top 50 gTPI in Europe. Koepon Genetics is very successful this month with 7 newly genomic tested animals in the top 50. Koepon Rive Classy 470 (Riveting x King Royal), of course from the Koepon Classy family, scores almost 2800 gTPI and 1000 NM, while Koepon Lawson Ruby 38 (AltaLawson x Duke out of the Regan-Joy Durham Regenia EX-92 family) is at 2775 gTPI. Koepon Shimmer Doma 30 RDC is with 2753 gTPI the number 1 gTPI Schreur Shimmer RDC daughter in Europe and exhibits the red gene as well. Her dam is an Endco Apprentice RDC daughter from the Glenridge Citation Roxy EX-97 family. The red & white Koepon OH Rubels Range 17 Red is with 2738 gTPI and 950 NM the number 2 gTPI Rubels-Red daughter in Europe. She is a daughter of Lakeside UPS Red Range, the super transmitting Mr Salvatore RDC with many high descendants. A red Westcoast Swingman-Red daughter out of Red Range will sell at the Highlight Sale in Hamm this week Friday (lot 27).
The highest Red Holstein female for Net Merit globally (as far as known) is K&L OH Shiner-Red, a Rubels-Red out of K&L SV Sunny-Red, the recently calved Mr Salvatore RDC out of the Des-Y-Gen Planet Silk RDC EX-90 family. Shiner-Red realizes a Net Merit of 971 and 2758 gTPI and is owned by De Oosterhof and GenHotel. With 163 gRZG she also ranks extremely high on the German base, this makes her one of the most interesting Red Holstein females in Europe. A red Match P RDC sister of Shiner will sell at the Highlight Sale (lot 38).
RZH of Marco Hellwig has also 2 new high genomic tested females, including RZH SIE Seattle with 2765 gTPI. Seattle is an AltaDateline from Ri-Val-Re Rasp 2131 (s. Rubi-Asp) and from the Glen-Drummond Splendor VG-86 family. At the German base she is with 167 gRZG (as far as known) the number 1 gRZG Holstein in Europe. Seattle will sell at the Highlight Sale in Hamm this week Friday (lot 17). Her full sister RZH SIE 12341 RDC scores also easily over 2700 gTPI and ranks in the top 50 newly tested females in January as well.
Click HERE for the genomic results of the newly tested European females.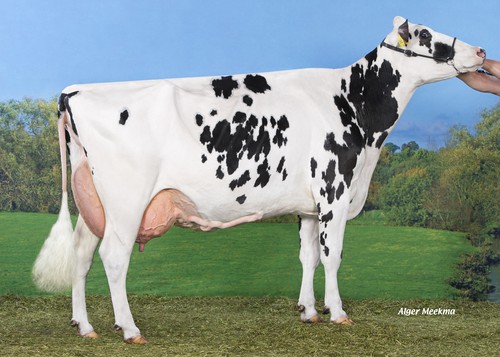 Koepon Col Regenia 37 EX-90, 5th dam of Koepon Lawson Ruby 38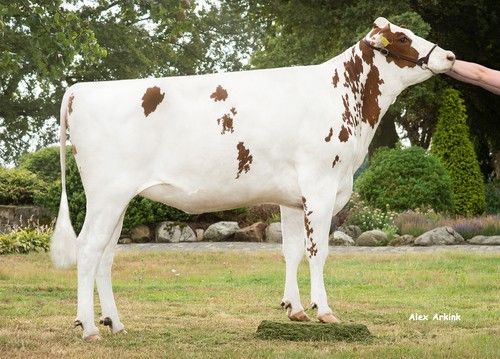 K&L SV Sunny-Red (s. Salvatore RDC), dam of K&L OH Shiner-Red