Mallory #1 gTPI in Europe!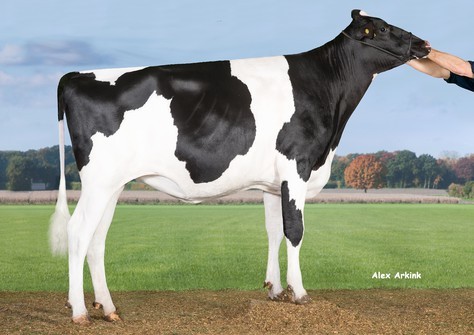 Genomics
K&L OH Mabel (s. Granite), dam of K&L OH Malllory, the #1 gTPI in September
In the top 50 newly genomic tested European females in the US system there are even 10 heifers owned by GenHotel members.
► K&L OH Mallory is the number 1 gTPI of all newly tested European females in the September run. Mallory, owned by De Oosterhof & GenHotel, is a De-Su Kenobi daughter of K&L OH Mabel and scores 2835 gTPI. She is therewith the number 1 Kenobi-daugter in Europe and the number 4 gTPI of all European females. Her dam Mabel, a Progenesis Granite daughter tracing back to the USA brood cow Mun-Cre Elevation Misty EX-92, ranks with 2807 gTPI still at position 13 of females in Europe and is the number 1 gTPI Granite worldwide!
► At Zwanebloem Holsteins in Belgium Dgf W Haley, a Charl x Jedi out of the Cookiecutter Mom Hue VG-88 family, scores 2753 gTPI & 971 NM. Her granddam RZH Honfleur VG-85 is a De-Su Balisto bred by RZH (Marco Hellwig) out of Lookout Pesce Epic Hue VG-86 in the USA.
► Koepon Genetics has 3 animals in the September top 50, including Koepon Altuve Range 6 RDC, with 2736 gTPI the highest red carrier heifer this run and the number 2 red carrier of all European females. Range 6 RDC is a Peak AltaAltuve RDC from the tremendous "Genomics Transmitter" Lakeside UPS Range Red, the Mr Salvatore RDC out of the renown Golden-Oaks Mark Prudence EX-95 family. Koepon Kenobi Ruby 28 & Koepon Lawson Genua 53 rank also in the top 50 gTPI.
► Also Hurkmans ET BV has several females in the top 50 this month. HET Sc Charlene, an early Westcoast Soundcloud from the Larcrest Cosmopolitan VG-87 family, is with 2742 gTPI the number 1 Soundcloud in Europe, and high on genomics in Germany and the Netherlands as well. HET Ken Gretchen ET and HET Ken Geertje ET, two Kenobi daughters with resp. 2733 & 2710 gTPI from the Diepenhoek Rozelle family, are the number 3 & 5 Kenobi's this run.
► Diepenhoek Holsteins has also a Rozelle in the top 50, namely Diepenhoek Rozelle 188, an ABS Crimson out of an Endco Superhero dam. Rozelle 188 scores 2729 gTPI and is therewith the number 1  Crimson this month and the number 4 gTPI of all Crimson daughters in Europe.
► At RZH, Marco Hellwig in Germany, RZH 21612, an St Odile Milktime out of the successful Canadian Glen-Drummond Shower EX-CAN family, scores 2723 gTPI. She is the (equal) number 1 gTPI Milktime daughter in Europe now.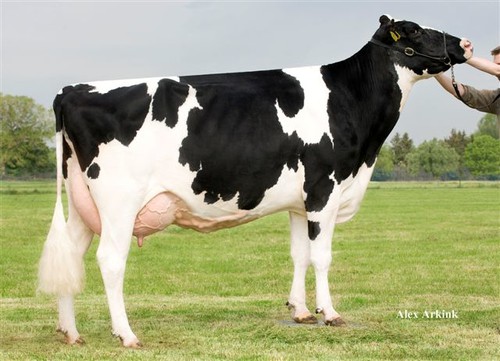 Holbra Pam VG-87 (s. Mascol), 5th dam of Koepon AltaAltuve Range 6 RDC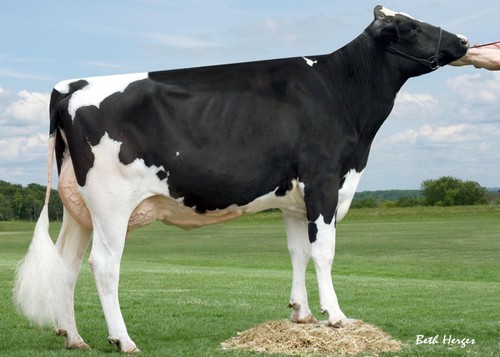 Larcrest Chenile VG-86 (s. Ramos), 4th dam of HET Sc Charlene