Homozygous polled from De-Su 7012 EX-92
Sales
De-Su 7012 EX-92, matrairch
Not to be missed is this beautiful KNS Simon P daughter from the American cow family of De-Su 7012 EX-92. This cow family is well known for her index breeding power and supplied proven sires like De-Su Oman Goli and De-Su Observer. A female line that was already very popular at several international AI-studs even before the start of genomics testing! 
The mating of Simon P x the homozygous polled KNS Glasperlenspiel (s. Mission P RDC), daughter of De-Su Georgia P GP-84, created a nice outcome: KNS Gypsy PP. This Gypsy PP is offered at the VOST Select Sale and is the only homozygous polled heifer at this sale! In addition to this amazing feature, she also inherits +0.15% protein on the German basis!
KNS Gypsy PP is ready to be flushed with the mating sire choosen by the new owner. Please contact KNS immediately after you have purchased her.
Does your mood also light-up when you see lot 50 KNS Gypsy PP? Then don't hesitate and make the final bid on her at the 8th VOST Select Sale on Friday, November 27: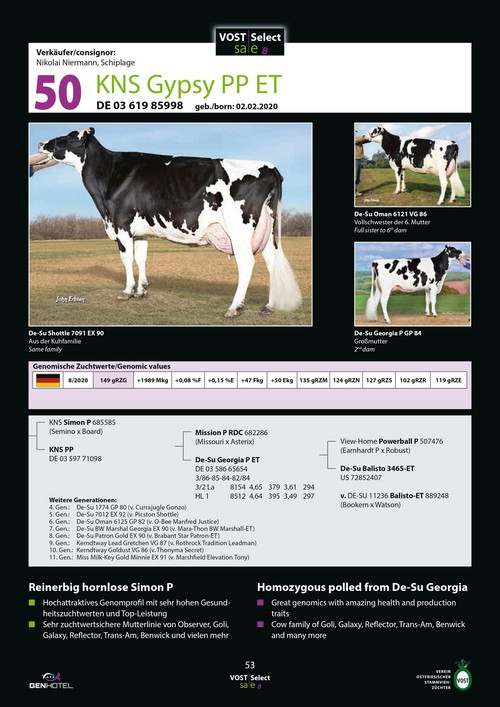 De-Su Georgia P GP-84 (s. Powerball P), granddam lot 50