High redcarrier Dateline with A2A2 and she can be yours!
Sales
Gen-I-Beq Goldwyn Secret RC VG-87 6th dam of Rashida
There will be a sale again, organised by Qnetics. This sale, the Sonderkollektion at Zukunftrind 2020 counts 35 lotnumbers. Lotnumber 13 is a Dateline daughter RZH SIE Rashida RDC ET. Rashide has a perfect genomics score with 155 gRZG and 2730 gTPI. 
This American/Canadian cowfamily delivers time and time again great offspring with stunning linear profiles, like this Rashida. Besides her fantastic gTPI and gRZG she also do well based on other traits: 129 gRZN, 125 gRZS and a promising 126 gRZE. This young heifer belongs to the same family as well-known Salvatore RDC, Savage, Secure, Soundcloud and Swingman. She's not only a redcarrier, but also carrier of the A2A2 beta caseïne!
Rashida's fullsister RZH SIE Seattle sold for an amazing €50.000 at the HighlightSale 2020. Another fullsister is also present at this sale, and will go under the hammer as lotnumber 21! 
LOT 13: RZH SIE Rashida RDC ET [Dateline x Rubi-Asp x Supershot x VG-85 Sympatico RDC x VG-85 Snowman]. She can be yours, just make the highest bid at the Sonderauktion on the 1st of February!
TOTAL VALUE OF HER EMBRYOCONTRACTS IS €6.200!

Fullsister RZH SIE Seattle, frontrunner of the 29th HighlightSale in Hamm.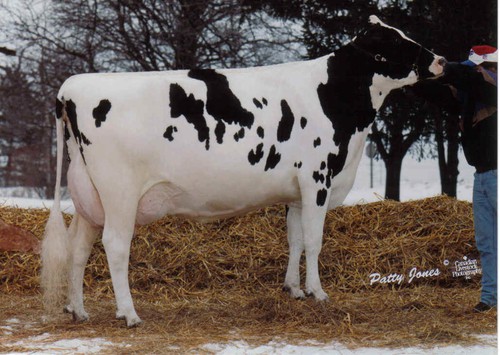 Glen Drummond Aero Flower VG-88 (s. Aerostar) this family's matriarch