Herd-classification Midwolder Farm
Type
Midwolder Susan 164 now VG-87
A very nice herd-classification at Midwolder Farm. Mr Savage daughter Midwolder Jose 12 (Mr Savage x VG-87 Fiction x VG-85 Canvas) is classified EX-90 in her 3rd lactation at Midwolder Farm. Jose 12 also knowns how to make milk as she produced 11.426 kg of milk with 4.67% fat and 3.50% protein in her 2nd lactation. In her current 3rd lactation she started with a first test of almost 50 kg of milk / day.
Jose 12 was not the only cow that was re-classified. 3 more 3rd lactation cows where classified VG-88: Midwolder Marie 392 VG-88 (Jerudo x Mascol), Midwolder Marjon 61 RF VG-88 (Fidelity x Oliver x Midwolder Marjon) and Midwolder Massia 46 VG-88. Last mentioned is a AltaIota daughter from the Massia family and she has a red carrier Brasil RF daughter with +257 GNVI.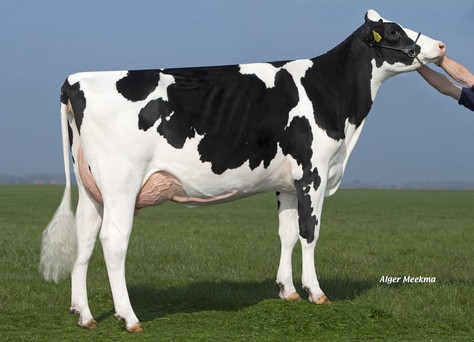 Midwolder Massia 46, classified VG-88 in her 3rd lactation
Midwolder Susan
Re- classified in her 2nd lactation is Midwolder Susan 164. This Iota daughter is now classified VG-87. Her pedigree goes through a VG-86 Gibor and a VG-88 Support back at Midwolder Susan 100 VG-88 (O Man). A Balisto 2-yr old of Susan 164, Midwolder Susan 187, was classified VG-85. She still scores +290 GNVI / +145 GRZG.
Other classified 2-yr olds from the Susan family are a VG-86 Vitesse, a VG-85 Ironic and a VG-85 Sunkiss.
Midwolder Marjon
One of the most interesting 2-yr olds at Midwolder Farm is Boss daughter Midwolder Marjon 82. She is classified VG-86 and has several high testing daughters including Midwolder Marjon 137, a +162 GRZG / +304 GNVI Penley daughter.
The dam to Marjon 82 is the well-known Trigger daughter Midwolder Marjon 53 VG-85, who has also a lot of high testing daughters. Her dam, Midwolder Marjon 15 VG-87, is still present in the herd of Midwolder Farm. This Mascol daughter of Midwolder Marjon VG-87 (O Man x Remarlinda EX-90) is projected at over 15.500 kg of milk in her 4th lactation.
| Name | Sire | Dam | Col | La | FR | DS | MS | FL | TOT |
| --- | --- | --- | --- | --- | --- | --- | --- | --- | --- |
| Jose 12  | Mr Savage | Midwolder Jose 2 | R | 3 | 91 | 89 | 90 | 91 | 90 |
| Marie 392  | Jerudo | Midwolder Marie 351 Rf | R | 3 | 90 | 90 | 85 | 90 | 88 |
| Massia 46  | Regancrest Altaiota | Midwolder Massia 19 Rf | Z | 3 | 91 | 90 | 90 | 85 | 88 |
| Marjon 61 RF  | Delta Fidelity | Midwolder Marjon 10 | Z | 3 | 90 | 88 | 87 | 88 | 88 |
| Susan 164  | Regancrest Altaiota | Midwolder Susan 148 | Z | 2 | 88 | 89 | 86 | 88 | 87 |
| Marjon 82  | Boss | Midwolder Marjon 53 | Z | 1 | 84 | 85 | 86 | 87 | 86 |
| Edith 53  | Ralma O-Man Cf Cricket-Et | Midwolder Edith 50 | Z | 1 | 86 | 87 | 86 | 85 | 86 |
| Susan 189  | A H Vitesse | Midwolder Susan 154 | Z | 1 | 86 | 87 | 86 | 86 | 86 |
| Marjon 94  | Vekis Chevrolet | Midwolder Marjon 58 | Z | 1 | 85 | 86 | 88 | 85 | 86 |
| Marjon 86  | De Vrendt Ironic | Midwolder Marjon 39 | R | 1 | 86 | 87 | 84 | 85 | 85 |
| Rena  | Delta Haka | Delta Rena | R | 1 | 86 | 87 | 85 | 83 | 85 |
| Saskia 28  | Vero Snowline | Midwolder Saskia 25 | Z | 1 | 82 | 82 | 84 | 88 | 85 |
| Susan 182 RF  | De Vrendt Ironic | Midwolder Susan 160 Rf | Z | 1 | 87 | 86 | 82 | 87 | 85 |
| Lilly 55  | Delta Bookem Danno | Midwolder Lilly 38 | Z | 1 | 86 | 85 | 82 | 87 | 85 |
| Lilly 56  | Delta Bookem Danno | Midwolder Lilly 38 | Z | 1 | 87 | 88 | 83 | 85 | 85 |
| Susan 184  | Sunkiss | Midwolder Susan 133 | Z | 1 | 85 | 86 | 86 | 85 | 85 |
| Susan 187  | De-Su 11236 Balisto | Midwolder Susan 164 | Z | 1 | 87 | 87 | 86 | 82 | 85 |
| Lilly 65  | Bouw Rocky | Midwolder Lilly 41 | Z | 1 | 85 | 86 | 85 | 85 | 85 |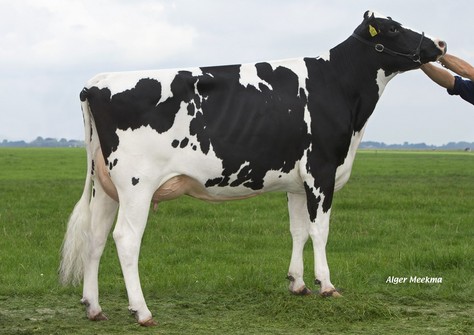 Midwolder Marjon 53 VG-85, dam to Marjon 82 VG-86