Four new genomic toppers for Wilder Holsteins!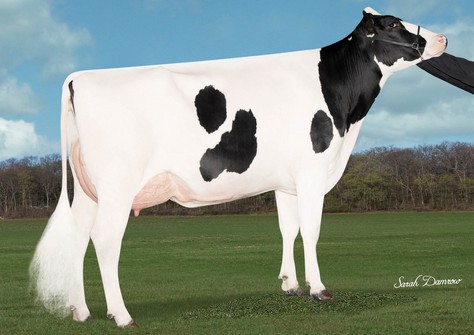 Genomics
Blumenfeld Detour 5524 VG-87, granddam of Wilder 23607
October's American genomics run has yielded several new toppers for GenHotel members. The absolute top gTPI heifers in Europe is unchanged, Wilder Holsteins has four newly tested animals in the top 50 gTPI in Europe this month and all four come from different cow families.
With 2892 gTPI, Wilder 60380, an Aristocrat daughter from the Wilder Kanu family, is Wilder Holsteins' highest newcomer. Her granddam is Wilder Kasalle-Red, a Salvatore RDC out of the great brood cow Wilder K25-Red EX-90 (s. Brekem). Wilder 23604, a Regan-Danhof Copyright from Wilder Mayday, is one of the highest Copyrights with 2836 gTPI and is even the number 1 NM Copyright in Europe with 702 NM.
Wilder 60395 RDC is a double Wilder breeding product, with Wilder Mark RDC as sire and Wilder Sunshine RDC (by Imax) as dam. 60395 RDC scores 2776 gTPI & +2.06 PTAT and comes from the successful Massia family. Also in the top 50 this month is Wilder 23607, a Lars-Acres Ssi Eld Aros daughter with 2774 gTPI, imported from America as an embryo. Her dam is Blumenfeld Pontiff 6310, a Triplecrown Pontiff daughter who goes back to the famous Schillview G family.
3STAR BM Juice her dam is also based in America and is called Kellogg-Bay Juicy Sugar, a Co-Op Aardema Juicy daughter from a very productive line that traces back to Lake-Home Formation Sissy EX-90. Juice is the number 2 gTPI and Net Merit Sandy-Valley Batman in Europe with 2853 gTPI and 712 NM.
Koepon Topmodel Ruby 59, from Koepon Genetics, is with 2821 gTPI the current number 1 gTPI Topmodel daughter in Europe. Ruby 59 her dam is the great breeding Koepon Duke Ruby 14, who now has several offspring above 2800 gTPI and comes from the Regan-Joy Durham Regenia EX-92 family. From the same family comes the highest red in Europe this month, Koepon Top Regenia 271-Red, a Koepon AltaTop-Red from Koepon Man Regenia 266-Red. With 2684 gTPI she is now the number 2 red AltaTop in Europe, behind her herd mate Koepon Top Range 18-Red (2732 gTPI).
At Zwanebloem Holsteins, Aristocrat daughter Papaver also scores in the top 50 of October with 2809 gTPI. Poppy comes from Peak Poppy, a Blowtorch granddaughter of Woodcrest Mogul Pretty VG-87.
Holbra Holsteins manages to complete the top 50 gTPI with 2 Mr Rubicon Dynamo granddaughters of Cookiecutter Ssire Have VG-86. Hailey and Hadyna score respectively 2773 and 2770 gTPI, making them the number 3 and 4 gTPI Dynamo daughters in Europe. Have is a Supersire from Cookiecutter Mom Halo VG-88, Holstein International Global Cow of the Year 2019.
In terms of conformation, GenHotel members have 2 high newcomers this month. Beeze Oldleus Felice, a Blondin Thunder Storm out of Argh Feline VG-86 and owned by  Beeze and Oldleus Holsteins, scores +3.12 PTAT, while BWN Mona, a Lindenright Moovin RDC out of the type rich Wyndford Goldwyn Erle EX-95 family of BWN Holsteins, hatches at +3.01 PTAT.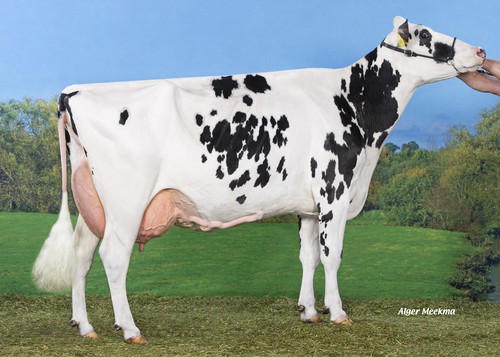 Koepon Colby Regenia 37 EX-90, tremendous brood cow
                                                         & in the pedigree of Koepon Topmodel Ruby 59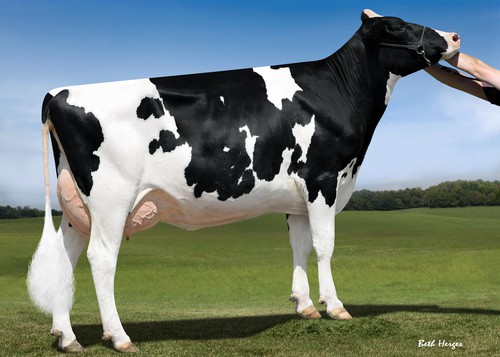 Cookiecutter Supersire Have VG-86, granddam of Holba Alh Hailey & Hadyna