Drouner Biko: son of Drouner Aiko 1445 VG-89
Many people know Drouner Dh Aiko 1445 VG-89 because of her great performance at the Europese Show (2nd in her class and best udder) or from her performance at the Dutch National Show NRM (reserve Junior Champion). But the German AI VOST already bought a son of her more a year ago! 
Aiko 1445 was flushed as a heifer with Born P RDC and from the flush the Red bull Drouner Biko was born. This bull was tested through GenHotel in Germany on genomics and sold to VOST!
Biko is a great bull himself and looks a lot like his dam, granddam and other familymembers! His index is also as we could expect: Great type, tremendous udders and high milk with high protein!
Biko his pedigree: Born P x VG-89 Pat-Red x EX-90 Olympian RC x VG-87 Freddie x EX-91 Goldwyn x EX-95 Durham x EX-93 Prelude x EX-94 Jubilant RF x EX-96 Marquis King x EX-90 Brutus x EX-90 Lucifer Lad
Click here for more info on the index of Biko
Biko semen will be sold by VOST and outside Germany by GGI.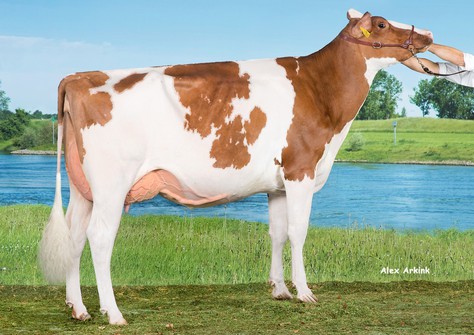 Drouner DH Aiko 1445 VG-89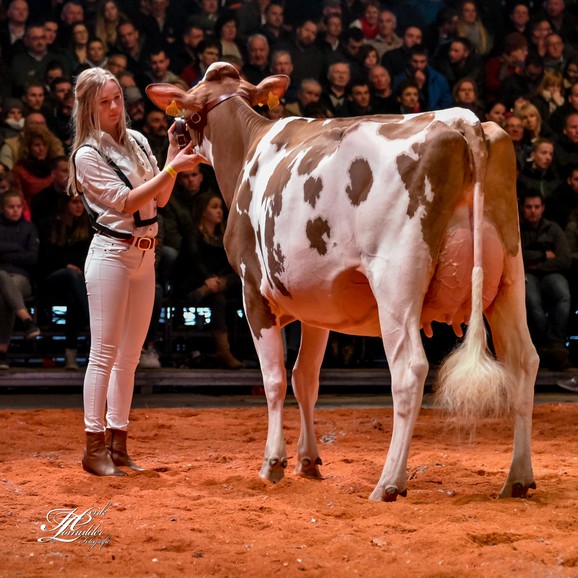 Drouner DH Aiko 1445 VG-89 at the European Show