Do you remember her?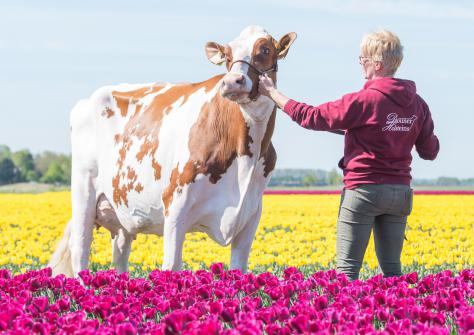 General
Drouner Aiko 1288 Red EX-90
In 2017 she was the Honorable Mention Junior Champion at the NRM, her granddam is the fantastic KHW Goldwyn Aiko RC EX-91 and her Pat-Red daughter Drouner DH Aiko 1445 Red VG-89 achieved a great result at the European Show 2019 in Libramont. The Red Holstein fanatics will know which cow we're talking about ...
We are talking about the great Ladys-Manor Olympian RC daughter Drouner AJDH Aiko 1288 Red EX-90 from the Albring family (Drouner Holsteins). This red and white beauty is a tremendous brood cow with several sons and grandsons in AI. The mating with sire Coyne-Farms Sympatico Pat-Red has worked out very well for the Albring family. From this flush Drouner DH Aiko 1445 Red VG-89 (s. Pat-Red) was born. This Aiko 1445 Red VG-89 provided the family a fantastic experience at the 2019 European Championships in Libramont, where her mammary was the best of her category and she achieved a great second position in her class. Upon her return, this daughter of Aiko 1288 Red EX-90 was rewarded by the herdbook with the maximum score of VG-89 and VG-89 MS!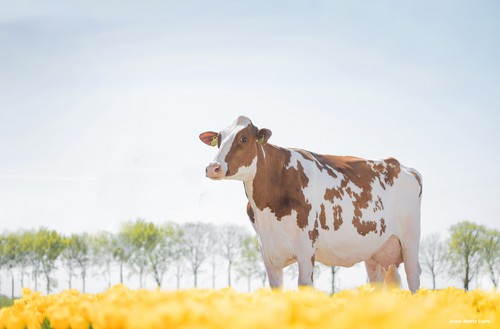 Drouner AJDH Aiko 1288 EX-90 (s. Olympian)
Recently we informed you in an article about the other Pat-Red daughter, a full sister of Aiko 1445 Red VG-89, classified with VG-88: Drouner Aiko 1539 Red. She is pictured next to her dam. 

Drouner AJDH Aiko 1288 EX-90 (s. Olympian) and her dam Drouner Aiko 1539 Red VG-88 (s. Pat-Red)