Poppe Red Hot Rita 860 No. 1 production cow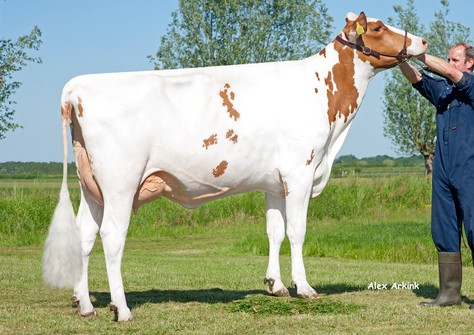 General
Poppe Red hot Rita 860 in 1st lactation
The GenHotel Selection Sale has delivered several influential cows to breeders all over Europe. Two very succesfull results are Molenkamp Anky 4 and Willem's Hoeve Rita 744.
Molenkamp Anky 4
Caudumer Holsteins bought Molenkamp Anky 4 on the GenHotel Selection Sale as a heifer in June 2011. Anky 4 has been bred by Molenkamp Holsteins (Fam. van Wichen) and is a Kylian daughter out of the Massia cowfamily. Anky 4 became a huge success for the Haytema family. Many embryos were sold through GenHotel and she has two sons in AI. She got some very good daughters as well she became a true type cow as well!  She was classified VG-88 in 1st lactation and  made a great 1st lactation: 2.06 346d 13015kgM 4.42%F 3.74%P.  Furthermore she was succesfull at shows and got Excellent!
In production she is a very special cow. She belongs to the top of all cows in Holland for several years now and was two times in a row the highest production Red cow of whole Holland! This year she was one of the best again and became No. 3 production cow of all Red cows with again a tremendous 5th lactation: 7.01 634d 29955 5.01%V 3.71%E 4012 EJR! 
She is now in her 6th lactation and again the highest production cow in the Caudumer herd! She is projected at 305 days at: 16.785kgM 4.95%V 3.79%E, so she makes another shot to be in the top again! Anky 4 has always been high in her production and thet is why she has already produced over 100.000kgM at an age of nine years old! In just 2254 days she has produced 104.441kgM met 4.52%V en 3.60 %E!
Poppe Red Hot Rita 860
The No. 1 Red production cow in Holland this year is Poppe Red Hot Rita 860. Poppe Red Hot Rita 860 is  bred and owned by Poppe Holsteins and Red Hot Holsteins.  Rita 860 is a member of the famous Willem's Hoeve Rita cowfamily, Rita 860 her dam Willem's Hoeve Rita 744 (v. Jerudo) was bought by Poppe-Red Hot on the GenHotel Selection Sale from familie de Jong, who are responsible for the great foundation for the succes of the Rita's at combination Poppe/Red Hot. 
Rita 744 was flushed as a heifer with Poppe Snow RF and Rita 860 was born. She was a great individual and had good genomics. She was flushed one time as a heifer and two sons from that flush were sold! Poppe Red Hot Darrel went to GENUS/ABS and Poppe Red Hot Duncan to RSH in Germany.
She calved at 25 months of age and became a super young cow. She was classified VG-87 and made a super first lactation. Because she was this good she was flushed 4 times in 1st lactation and has many daughters now. When she produced 45kgM she even made 25 embryos in one flush! KI Kampen bought 3 sons from Rita 860, two by Board and one by Barolo! One of the early daughters of Rita 860 Rita 1013 (s. Debutant) was flushed with Bagno as heifer and her son Poppe Red Hot Bonus was sold to Masterrind in Germany and became the No. 2 Red bull in Germany in  December 2017! And a different Debutant daughter Rita 1080 was flushed with Mission and her son Misty Red was sold to MCB Krasne in Poland! 
So Rita 860 bred extremely well, but in her production she might even be more special! In her 3rd lactation she produced higher than ever and has now become the No. 1 production cow of all Red cows in Holland! Poppe Red Hot Rita 860 produced in 352 days 18.941kgM met 4.40% F en 3.75% P. And her strenght is that her daughters show the same!  From the 8 highest production cows in the herd of Poppe there are 4 out of the Rita's at this moment! These are 3 direct daughters of Rita 860 and Rita 860 herself! She is producing 63 kg milk a day now and has produced over 60.000 kgM in lifetime now!  The 14 milking daughters of Rita 860 in the Poppe herd produce 14% above the herd average! The influence of Rita 860 will increase every day in the herd and also outside the herd of Poppe! 
GenHotel congratulates family Haytema and combination Poppe-Red Hot with these great successes and is proud to be part of this success by delivering these cowfamilies in their herds!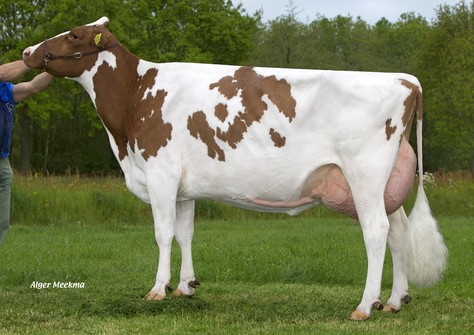 Molenkamp Anky 4-Red EX-90
Poppe Red Hot Rita 860 Red VG-87