Classification Hedra Holsteins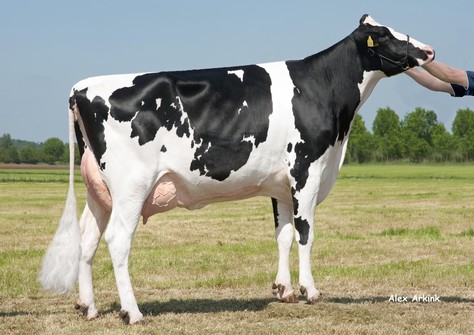 Very good results during herd classification at Hedra Holsteins this week. 14 2-Yr Olds where classified with 85.4 points with 86 point for F&L. The herdaverage at Hedra is now up to 85 points over 101 classified cows.
Half-sister Danno
The highest classified cow this round was Delta Ria, an Epic daughter of Delta Riant VG-87 (Bolton x Etazon Renate VG-86). Ria, who also showed at the NRM in the themegroup with CRV-bulldams, is classified VG-88 in her 3rd lactation. A Cupido daughter of Ria, Remarlinda 526, was with VG-87 one of the highest classified 2-Yr Olds. Ria is a half-sister to Delta Bookem Danno, This Bookem son of Riant is still the #1 proven bull in the Netherlands.
Delta Rora
Delta Rora is also classified VG-87. This 2nd lactation G-Force daughter is projected at 11.681 kg of milk with 3.50% protein and has at least 10 daughters sired by Finder (4x), Brentano (3x), Ibiza (2x) and Danno (1x) with over +300 GNVI. One of her Finder daughters is the current #7 in the Netherlands with +388 GNVI.
The dam to Rora is Delta Robyn VG-85, a Gibor daughter. This pedigree goes via daughters of Shottle and Dustin back at Veneriete Ugela Sasta VG-86, a Ugela Bell daughter of Etazon Hyde VG-86.
Delta Jelena RDC
Also from the Etazon Hyde family, but from a different maternalline, hails Delta Jelena RDC VG-88. This Fidelity daughter of Delta Jacoline VG-87 (Shottle x O Man x Webster x Cash x Amos x Ugela Bell x Etazon Hyde) turns out ot be a great broodcow for Hedra Holsteins. Her granddaughters, Delta Jean (Incentive) and Riedel 552 (Elliot) are classified VG-86 and VG-85 respectively. Hedra Jahia RDC, a Red Carrier Fanatic daughter of Jelena RDC, is also classified VG-85. She has >300 GNVI offspring sired by Final, Finder and Almond.
| Name | Sire | Dam | Col | La | FR | DS | MS | FL | TOT |
| --- | --- | --- | --- | --- | --- | --- | --- | --- | --- |
| Delta Ria | Epic | Delta Riant | Z | 3 | 89 | 91 | 88 | 87 | 88 |
| Remarlinda 526 | Cupido | Delta Ria | Z | 1 | 86 | 87 | 88 | 87 | 87 |
| Illona 548 | Jamaica | Delta Ivy | Z | 1 | 88 | 88 | 87 | 87 | 87 |
| Delta Rora | G-Force | Delta Robyn | Z | 2 | 86 | 85 | 86 | 88 | 87 |
| Delta Jean | Incentive | Delta Jelma | R | 1 | 85 | 83 | 86 | 86 | 86 |
| Wiza 551 | Rocky | Delta Giga | Z | 1 | 84 | 86 | 87 | 87 | 86 |
| Wiza 543 | Vitesse | Delta Wanda | Z | 1 | 83 | 84 | 86 | 87 | 86 |
| Alumette 542 | Debutant | D. Alumette 12 | R | 1 | 87 | 87 | 85 | 86 | 86 |
| Illona 554 | Anchorman | Delta Ivy | Z | 1 | 84 | 87 | 86 | 86 | 86 |
| Hedra Jahia RDC | Fanatic | Delta Jelena RDC | Z | 1 | 85 | 84 | 84 | 85 | 85 |
| Delta Walline | Perfect Aiko | De Volmer Warsi RDC | R | 1 | 87 | 86 | 86 | 82 | 85 |
| Riedel 552 | Elliot | Delta Jelma | Z | 1 | 84 | 84 | 86 | 85 | 85 |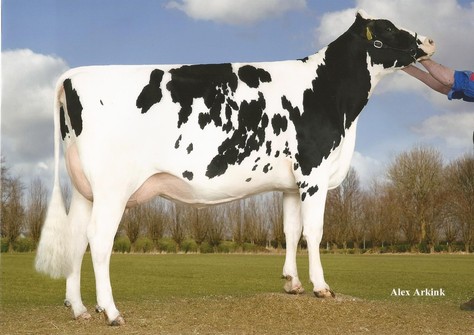 Delta Jelena RDC VG-88