Classification at De Sanderij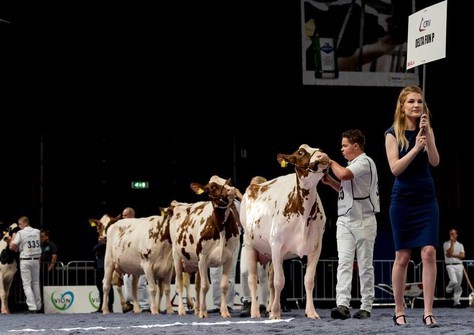 General
Sanderij Massia Maddy 1 P Red VG-89, first cow of the Delta Fun P Red group at NRM
At De Sanderij, the Hietbrink family in The Netherlands, recently several Red Holstein milking heifers are scored. Eight 2-year-olds are classified with an average of 84.6 points for Total Score and 84.3 points for mammary.
► The highest scored heifer is Sanderij Kianco 6 P Red, an Ems PP Red daughter out of the homebred Sanderij Coba family, with VG-87 and VG-87 MS.
► Wilder Kona P Red, a Mr DDS Mega-Watt RDC daughter out of Wilder Kali P RDC VG-88 (s. Pine-Tree Ohio Style P), the Wilder Kanu P family, is scored VG-86 and VG-85 MS.
► Sanderij Massia Maddy 1 P Red, a 2nd lactation Delta Fun P Red daughter from the Apina Massia family, is now as 3-yr-old classified with the maximum score of VG-89 and VG-89 udder. At the NRM she participated in the Fun P Red progeny group for the second time and was chosen by the judge as best daughter of the group!
|   Name  |   Sire x MGS |   Cow family | Lac | FR | DS | MS | FL | TOT |
| --- | --- | --- | --- | --- | --- | --- | --- | --- |
| Sanderij Massia Maddy 1 P Red | Fun P Red x Maddock | Apina Massia | 2 | 89 | 89 | 89 | 87 | 89 |
| Sanderij Kianco 6 P Red | Ems PP Red x Kian | Sanderij Coba | 1 | 88 | 87 | 87 | 86 | 87 |
| Wilder Kona P Red | Mega-Watt RDC x Style P) | Wilder Kanu  | 1 | 87 | 86 | 85 | 87 | 86 |
| Sanderij Mo 9 P Red | Pero Red P x Manhattan | Fabers Mo | 1 | 87 | 87 | 88 | 81 | 85 |
| Sanderij Fabiola 23 Red | Nebraska x Ladd P Red | Fabers Mo | 1 | 87 | 87 | 86 | 82 | 85 |
| Sanderij Sielian 2 Red | Red Torpedo x Classic | Reitsma Mat | 1 | 87 | 86 | 86 | 82 | 85 |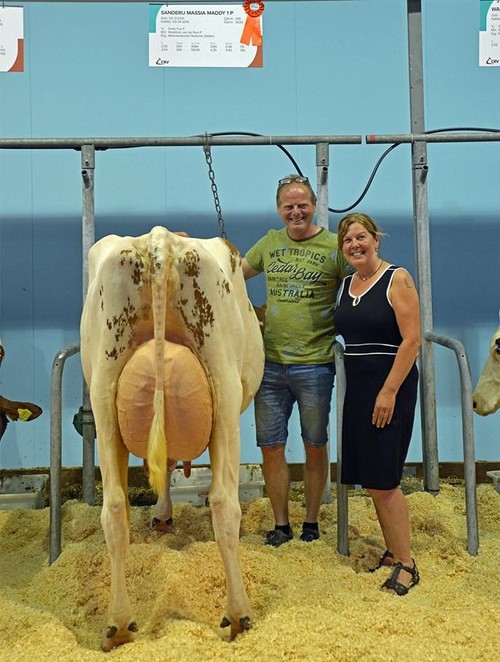 Johan en Siepie Hietbrink, breeders of Sanderij Massia Mandy 1 P Red at NRM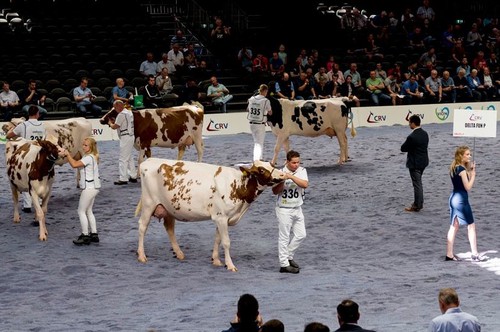 Sanderij Massia Mandy 1 P Red (no. 336), first cow in the Delta Fun P Red group at NRM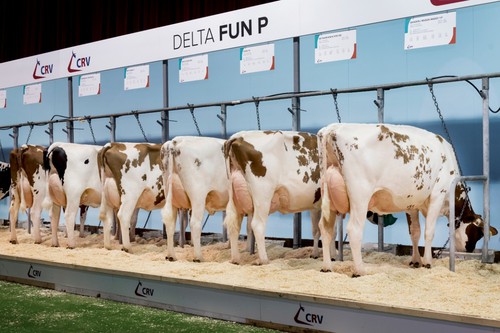 Sanderij Massia Mandy 1 P Red (right), first cow in the Delta Fun P Red group at NRM