Zwanebloem Holsteins is successful on many fronts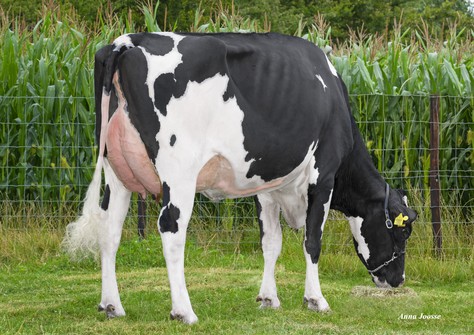 General
Zwanebloem Bourbon Ruslana classified with VG-86
Recently, the classifier got to see a large group of milking heifers at the Flemish Zwanebloem Holsteins. At least 22 heifers got a score of VG-85 or higher! A fantastic achievement for this dairy farm with at least 660 dairy cows. Besides being active in show breeding, Masschelyn also tries to achieve success on breeding with genomics.
Highest scoring heifer of this selection is Zwanebloem 1499, a Lucky PP-Red daughter who strengthened her total score of VG-87 by scoring VG-89 for her frame. Her GP-84 Kansas P dam is in her third lacation and she manages to run some great productions. Also Peak Hotline daughter Zwanebloem 1464 received a well-deserved VG-87. Both heifers come from deep, home-bred cow families. 
The classification of Zwanebloem Bourbon Ruslana was also successful. The Bourbon daughter from the world famous Whittier-Farms Lead Mae EX-95 family got a nice VG-86 AV. Several proven sires are member of this cow family, including: Epic, Elude, Wickham and Wonder. Ruslana VG-86 recently appeared in front of the camera, resulting in beautiful pictures!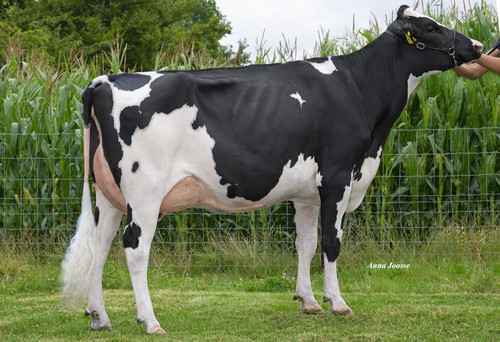 Zwanebloem Bourbon Ruslana VG-86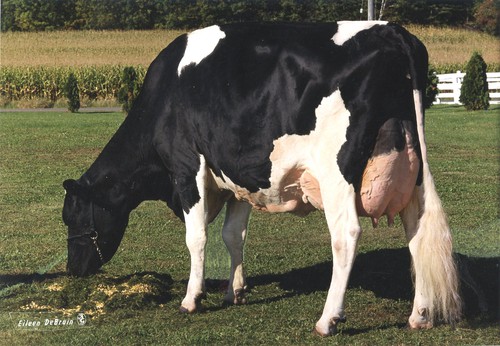 ​Whittier-Farms Lead Mae EX-95
Where the first calvers score well on their conformation, Zwanebloem Charl Rozelle 2 achieves a gigantic 370 NVI on a B&W base! Her name already reveals it, this Hurtgenlea Richard Charl daughter is descending from the grandiose Diepenhoek Rozelle family: a cow family that delivers quite often this kind of amazing offspring. With this score, Zwanebloem Charl Rozelle 2 ends up in the top 3 NVI!