Wilder Mond breeds!
Wilder Mond, a promising Superhot daughter from the Wilder Meta family, is sold through the German Selection Sale to Koepon Genetics. She is flushed several times and not without success. A lot of embryos of Mond where sold and she now has interesting daughters owned by several GenHotel members. Her breeder, Wilder Holsteins, owns for example daughters by Lighter (> +150 GRZG) and Modetsy (> +2600 GTPI).
K&L MS Moni P
Owned by K&L is K&L MS Moni P, a Polled Mission P daughter of Mond. She scores +166 GRZG on German basis and +321 GNVI in the Netherlands. Herewith she is among the highest Polled heifers in both Germany and the Netherlands.
Wilder Moncherry
Wilder Moncherry is owned by Bouw Holsteins. This Kerrigan daughter scores +157 GRZG / +2638 GTPI. She is very allround and offers a lot of milk, very good health traits and excellent type.
Wilder Movie
At Schuit Holsteins you will find Wilder Movie (Kerrigan), a full sister to Moncherry. Movie scores +160 GRZG and +2629 GTPI. She has a huge production index, high longevity and very good type.
Koepon Hologr Mond 1 P
At Koepon Genetics, Wilder Mond is accompanied by her Hologram-P daughter Koepon Hologr Mond 1 P. Mon 1 P scores +153 GRZG and is the #1 Hologram-P daughter on German basis.
Wilder Mond. Remember the name because we will definitely here more about her in the future!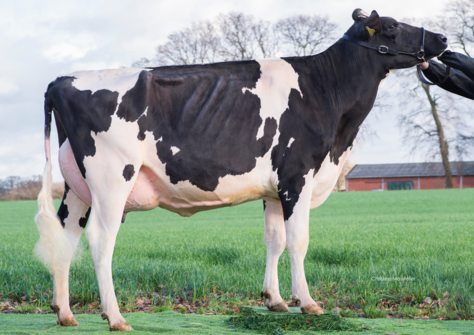 Wilder Marta VG-86, dam to Wilder Mond