Vost Select Sale 2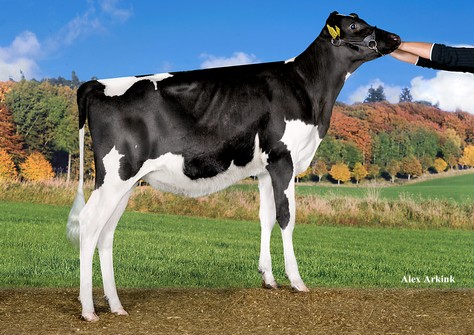 The Vost Select Sale 2 will take place Friday, November 28th, in the Ostfrieslandhalle, Leer, Germany. K&L and some of the GenHotel members are selling very interesting calves in Germany.
+405 GNVI and +158 GRZG
K&L and Tirsvad both sell one of their most valuable calves. Selling as lot 3 is K&L BL Leida 2424. She is a very high Balisto daughter of VDP Leida 466 (picture), the #1 G-Force daughter in the Netherlands. Lieda 2424 scores +158 GRZG and +405 GNVI and is one of the highest genomic tested heifers in the sale. K&L has contract Leida 2424 for 28 embryos with a total value of € 20.400,- (8 x € 900,- + 8 x € 750,- + 12 x € 600,-).
Tirsvad Sargeant Nabia of Tirsvad Holsteins sells as lot 16. Nabia is a Sargeant daughter of Tirsvad Bookem Nessie. Nessie is classified VG-89 and is one of the best cows ever at Tirsvad. She is backed by the great Neblina family that traces back at Tui Onyx Nick. She is among the highest heifers in the sale with +158 GRZG, +2267 GTPI and +3392 GLPI.
K&L
Lot 3: K&L BL Leida 2424 (Balisto x G-Force x Mascol)
+158 GRZG  /  +405 GNVI
Lot 24: K&L BL Ludy (Balisto x Epic x OWN Gold Lucille)
+147 GRZG  /  +2142 GTPI
Lot 27: Rhala Excellence Denice Red P (Kanu P x Excellence Destry Denice RDC)
+132 GRZG  /  +1903 GTPI
Lot 49: K&L GX Dellia (Galaxy x Southland MOM Dellia 9765)
+152 GRZG  /  +2156 GTPI  /  +3094 GLPI
Tirsvad
Lot 16: Tirsvad Sargeant Nabia (Sargeant x Bookem x Gibor)
+158 GRZG  /  +2267 GTPI  /  +3392 GLPI
HWH Holsteins
Lot 8: Vieuxsaule HWH Tabasco (Sudan x Freddie x Bolton x Vieuxsaule Allen Dragonfly)
+139 GRZG  /  +2197 GTPI
Lot 12: HWH Plomelina (Balisto x Beau x Planet x Shottle x Windy-Knoll-View Pledge)
+157 GRZG
CNN Holsteins
Lot 28: CNN Miss Galaxy (Galaxy x Robust x Nova-TMJ Golden Echo)
+148 GRZG  /  +2233 GTPI  /  +3249 GLPI
Lot 45: CNN Lorena (Shotglass x Dauden Isy; Robthom Integrity family)
+152 GRZG   /  +2356 GTPI  /  +3418 GLPI
On your right under "breeders" you will find a direct link to GenHotel members CNN, HWH, K&L and Tirsvad Holsteins. A little lower, under "Attachments" you find more information about the heifers in the sale.