Successful GenHotel day at Wilder Holsteins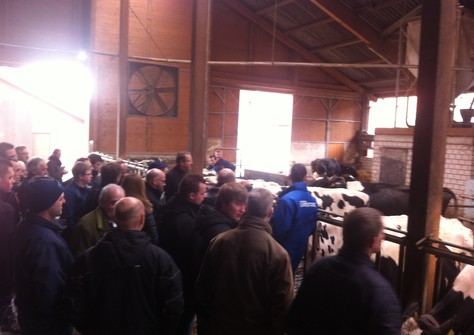 Yesterday we have organised a special day for GenHotel members in combination with a visit to GenHotel member Wilder Holsteins. In the morning included a presentation about the new GenHotel website and a preview of the GenHotel auction website. The GenHotel website has quite a few handy skills for visitors which we will post at the GenHotel website soon. The auction site will go online next week as the GenHotel Selection Sale starts. While enjoying a meal and a drink a lot was discussed by the 25 present GenHotel members.
Wilder Holsteins
In the afternoon we visited Wilder Holsteins from the brothers Hermann and Norbert Holtkamp. At Wilder Holsteins they milk about 150 cows. From the start of AI they always have used the better proven bulls. However, since the advent of genomics Wilder has made a flying start in the Holstein breeding. Especially due to the great results of Wilder Kanu 111 RDC VG-86, the dam of Wilder Kanu P Red. Her offspring shows very high genomics. This family proofs that high genomics and longevity can go hand in hand. Besides Kanu 111 and a lot of offspring her Shottle dam, Wilder Kairo 55 RDC VG-87, and her Ramos granddam, Katja 23 VG-87, are also still present in the herd. Katje 23 is on her way to the magic threshold of 100.000 kg of milk.
GenHotel Selection Sale
At Wilder Holsteins you will also find offspring from their homebred Wilder M-line but also from other well-known families such as Apina Massia 102, Ida, Wanja and Batke Outside Kora. A Modena daughter out of the Batke Outside Kora family sells at the next GenHotel Selection Sale. This Wilder Kim scores +2557 GTPI. Her pedigree: Modena x Saloon x Snowman x Goldwyn x Batke Outside Kora.
Want to become a member of GenHotel with you own GenHotel profile? This is possible from € 250,- / year. Click here for more information.

GenHotel members listen to Hermann Holtkamp