Schreur Victoria the nr.4 gNVI!
Genomics
Joyana GP-84 (s. Shamrock) granddam of the nr. 4 NVI sire Schreur Victoria
The young, red sire Scheur Victoria can name himself the number 4 on NVI in the red and white ranking thanks to +373 gNVI. He's bred by Schreur Holstein (Reurslag family). With his pedigree Anreli-Red x VG-86 Go Now RF x VG-84 Shamrock x VG-87 Man-O-Man he descends from a German cowfamily with Canadian roots. Henk Reurslag bought his dam Joy Now RDC VG-86 from Germany back in 2015. She produced 11,356kg 4.71%f and 3.70%p in her first lactation. Jow Now is still present and she has a total life production of 34.000kg milk in three lactations.
The Dutch organisation KI Kampen also noticed the quality of this family, and owns the 1-year old Scheur Victoria to get him ready for AI. His genomics are fantastic, with 107 fertility, +481 INET and +0,15% fatt he's a sire to keep an eye on!
Do you want to know more about the december gNVI index? Then click HERE.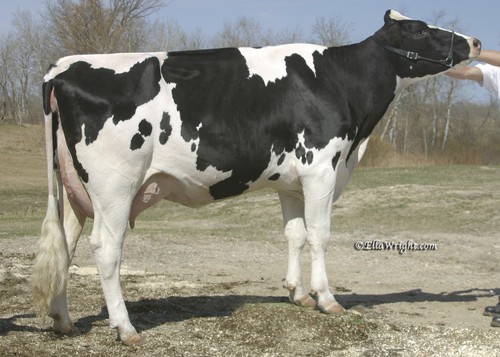 Benner Outside Joyce VG-85 (s. Comestar Outside) | 5th dam of Schreur Victoria