One of the first milking heifers of Styx Red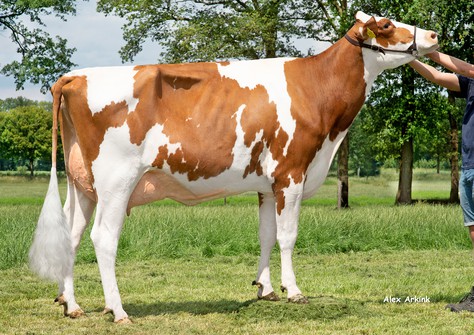 In April this year we were able to inform you that Kalibra SX 5631 Red was classified with VG-87 in her first lactation. Recently she was also captured on camera, a picture definitely worth looking at!
The Kalibra Syndicate, which consists of Poppe-, Red Hot-, Ritmaster Holsteins and 3STAR Genetics, bred this Wescoast Styx-Red daughter, Kalibra SX 5631 VG-87. She was sold as a calf to Melkveebedrijf de Oosterhof and 3STAR Genetics. This beautiful VG-87/VG-88 MS Styx-Red descends from the impressive and successful German Wilder Kanu family, a cow family that is now known worldwide. 
Already four sons of Kalibra SX 5631 VG-87 have been delivered to AI stations, including Gywer RDC son K&L OH Gigolo Red (156 RZG @Qnetics). She started her first lactation well and her 305-days milk production is projected at a great 9,315kgM with 4.68%f and 3.21%p.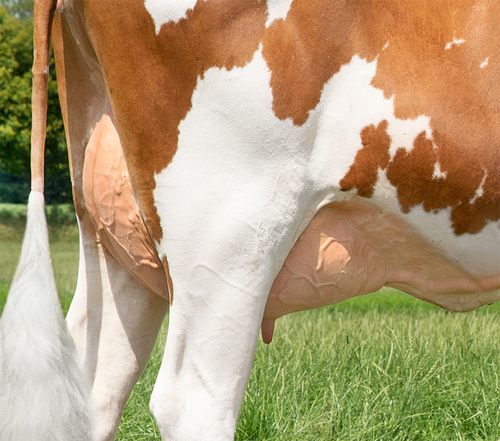 Kalibra SX 5631 her mammry system got a great score of VG-88!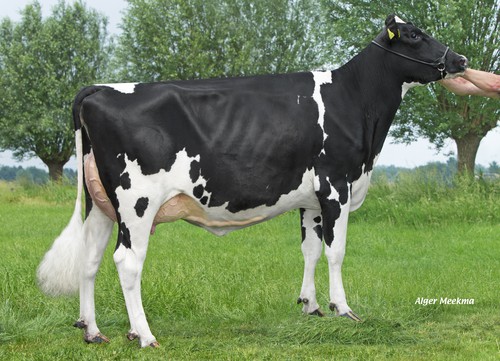 Moeder Wilder Kalibra RDC VG-86 (s Battlecry)