New number 1 gTPI & NM Red Holstein worldwide!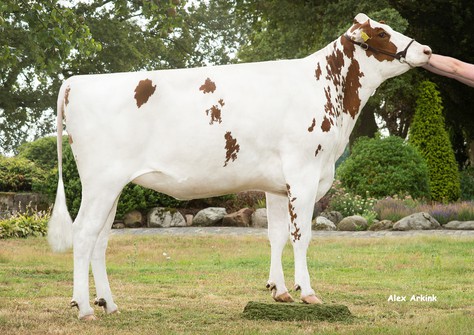 Genomics
K&L SV Sunny-Red (s. Salvatore RDC), dam of 3STAR OH Sunnyside-Red, the number 1 gTPI and NM Red Holstein female worldwide!
During the March USA genomic run several very interesting newly tested females, bred by GenHotel members, received fantastic results.
At Wilder Holsteins this month 3 newly genomic tested females score in the top 50 gTPI in Europe. Wilder Clark is, also due to her tremendous production potential, with 1059 NM the number 1 Net Merit Aristocrat daughter in Europe and the number 2 NM Aristocrat worldwide. She is a descendant from the renown Tirsvad Luke Classic EX-90 family and scores 2831 gTPI. Also her full sister Wilder Clementine, with almost 2800 gTPI, ranks in the top 10 gTPI this month.
Wilder Flow is in March with 2762 gTPI the highest N-Springhope Honda daughter in Europe. Her dam is Wilder Freemax, the full sister of the number 2 gRZG young sire in Germany, Broeks Freemax (Imax x Modesty).
The tremendous transmitting Pen-Col Mistral, owned by Tirsvad Holsteins and 3STAR Genetics, has added also several high scoring daughters this month. In the meantime this "Top Genomic Transmitter" has already 10 daughters over 2700 gTPI, including 3 over 2800 gTPI! Her highest daughter is Tirsvad K&L Riveting Magnolia, ranking with 2879 gTPI (and 1019 NM) in the top 5 gTPI in Europe. In addition two of Mistral's daughters score over 400 gNVI as well.
The absolute NUMBER 1 gTPI Red Holstein worldwide is now 3STAR OH Sunnyside-Red, a Rubels-daughter out of K&L SV Sunny-Red, with a skyhigh 2797 gTPI. And with 973 NM Sunnyside-Red is also the number 1 Net Merit Red Holstein globally, with moreover+2.43 gPTAT. In Germany she is the number 1 gRZG Rubels daughter (163 gRZG), equal to her full sister K&L OH Shiner-Red, both co-owned by De Oosterhof and 3STAR Genetics.
Out of K&L OH Mirror, the high Rubi-Agronaut from the Seagull-Bay O-Man Mirror VG-86 family, two newly tested daughters have results this month: K&L OH Majesty and Magical (both sired by Crimson). They score resp. 2776 and 2757 gTPI and belong to the top 10 ABS Crimson daughters in Europe. Mirror also now has 7 daughters over 2700 gTPI.
At Vendairy Holsteins, the Van de Ven family, Vendairy Jasmin 4403 also transmits tremendous. This recently calved King Royal daughter out of the WEH Jessica family has now 3 Solution daughters, including Vendairy Jasmin 4679 scoring this month 2754 gTPI. Ze ranks in the top 10 gTPI of all Fustead S-S-I Solution daughters in Europe, her full sisters score between 2600 and 2700 gTPI.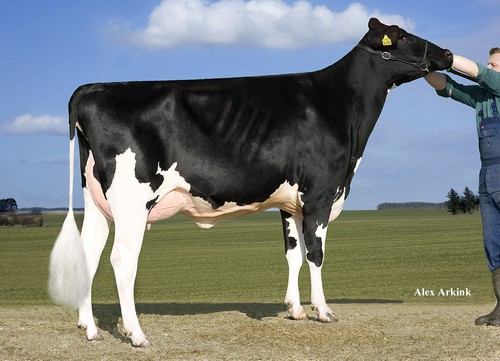 Anderstrup Mom Carine VG-89, 5th dam of Wilder Clark & Wilder Clementine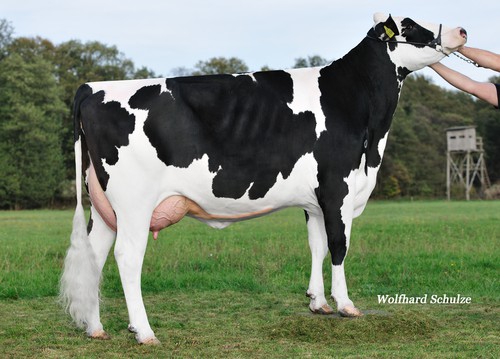 WEH Bronco Janet VG-85, 4th dam of Vendairy Jasmin 4679 (s. Solution)