Maternal sister of Huntje Red River classified with VG-87!
General
Dam: Huntje Holstein Anemoon 117 Red VG-86 (by Fraiko RDC)
The classification day went very well for six females from Huntje Holsteins. Three milking heifers were shown to the classifier and score an average of VG-85! One of them is the first calver Huntje Holstein Anemoon 250 RF, a first calver Danno daughter of Huntje Holstein Anemoon 117 Red VG-86.
Huntje Holstein Anemoon 250 RDC by Danno is classified with VG-87. Anemoon 250 RDC VG-87 traces through Classic daughter Huntje Holstein Anemoon 16 EX-90 back to the American C Granduc Sugar Cleitus RDC EX-90. The VG-87 Danno daughter is the maternal sister to Riverboy son Huntje Holsteins Red River @KI Samen. This red sire has graduated to the proven sire status last month with 75 milking daughters in the Netherlands! His qualities are his positive fertility and udderhealth traits combined with a persistent milk production. Another Anemoon family member, Huntje Holstein Anemoon 179, a Tiger-Lily Ladd P-Red daughter in her 4th lactation, scored VG-89 with EX-90 for dairystrength.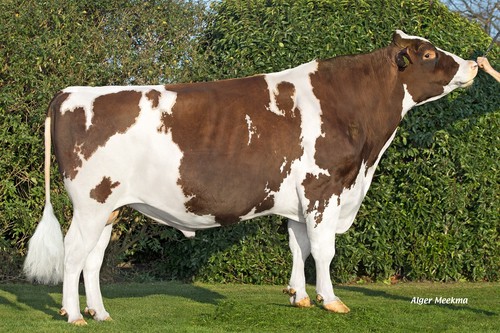 Huntje Holsteins Red River (Riverboy x Huntje Holstein Fraiko Anemoon 117 Red VG-86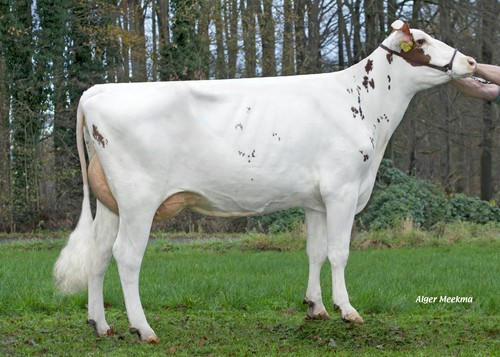 Huntje Anemoon 251 VG-85 (Red River x GP-84 Payball Red)
Some years ago the Oudenampsen family bought a descendant from the Apina Massia family, together with GenHotel. This descendant is a De-Su 12109 Battlecry x Wilder Smile Red VG-85 and is reclassified with VG-88 / EX-90 DS in her 3rd lactation. Wilder Smokey RDC VG-88 (by Battlecry) is in her 3rd lactation, which is projected (in 305 days) at 14.059 kgs M 4.12%F and 3.51%P! Smokey RDC VG-88 turned out to be a great brood cow, because her Weelder Esperanto daughter Huntje Holsteins K&L Smokey 2 RDC was classified with VG-86 / 88 FL as a 2yr-old and her Spark-Red offspring scored well on NVI & RZG basis.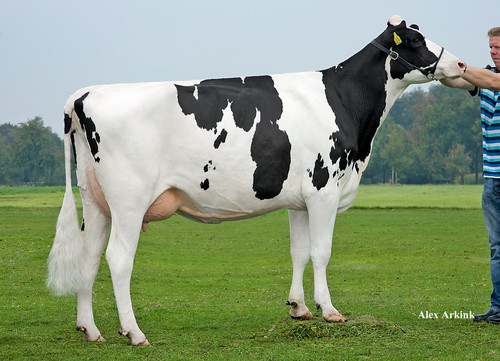 MM: Sanderij Massia Sneeuwwitje RDC VG-89 (by Snowman)