KHW Super Aderyn RC EX-90 Red-Impact Cow 2018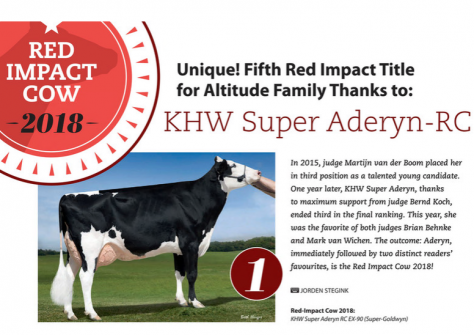 KHW Super Aderyn RC EX-90, a Superstition daughter out of the Kamps-Hollow Durham Altitude family, is the winner of Holstein Internationals Red-Impact Cow 2018 election. Aderyn RC is not the first cow from this family that wins this competition. Her dam, KHW Goldwyn Aiko RC EX-91 (Goldwyn) won the title in 2015, and her granddam, Kamps-Hollow Durham Altitude EX-95 (Durham), is the winner of 2009. In 2013 it was KHW Regiment Apple-Red EX-96, a Regiment daughter of Altitude and thus a half-sister to Aiko RC, that won this competition and the winner of 2016 was KHW-I Aika Baxter RC VG-89 (Baxter x KHW Goldwyn Aiko RC). This cowfamily has a tremendous breeding power and knows how the pass on the right genes to the next generation. Generation after generation.
GenHotel
GenHotel already contracted Aderyn RC as a maiden heifer. She was flushed to Supersire and born from this combination is for example the bull Willsbro K&L Atwork RDC (+580 PLI) who ranks among the top 20 PLI Daughter Proven Bulls (UK & Int.).
Born out of the same flush as Atwork are also his full sisters Willsbro K&L Supersire Adina VG-85 and Willsbro K&L Supersire Aderyn VG-85. Adina has offspring sired by Commander, Kingboy and Envious and Aderyn has daughters of President, Lexington and Nugget. Willsbro K&L Lexington Aderyn 2 is a Lexington daughter of Supersire Aderyn. She is the dam to K&L MS Adina P (+276 GNVI / +143 GRZG), De Wildsheuvel K&L Abby (+2434 GTPI / +144 GRZG) and K&L KG Adina (+2513 GTPI / +148 GRZG). Her half-sister, Willsbro K&L Nugget Aderyn RDC (s. Nugget), is the dam to Visstein K&L SV Aderina Red (+316 GNVI / +2520 GTPI / +155 GRZG), K&L SX Aikina RDC (+312 GNVI / +2486 GTPI / +151 GRZG) and off course K&L GT Aderyn Red (+320 GNVI / +157 GRZG).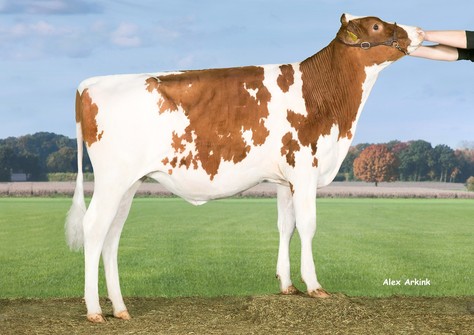 K&L GT Aderyn Red
German Selection Sale
U read it, an investment in this cowfamily gives you the biggest change at winning the Red-Impact competition. At the German Selection Sale several heifers from this family sell. A great opportunity to buy yourself something out of this superior family.