Jego daughter of Anky 4 classified EX-91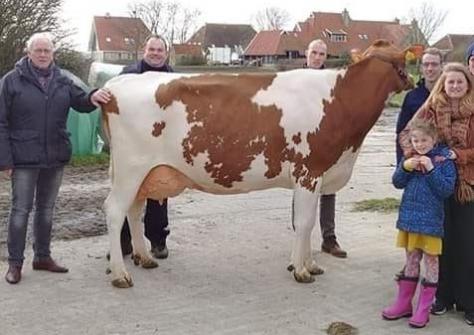 General
Jego daughter Caudumer Anky 7 classified with EX-91. Bron: Coöperatie CRV
Molenkamp Anky 4 was just a yearling heifer back in 2011 when she was sold at the GenHotel Selection Sale and went to Caudumer Holsteins. Anky 4 grew up to be the highest production cow in the Netherlands, got an excellent classification score, had many successful flushes and two of her sons made it to AI. Anky 4 EX-90 (s. Kylian) is still going strong at the farm of the Haytema family. She's in her 6th lactation now and managed to produce 114,228 kgM with 4.56% fat and 3.62% protein in just 2,429 days.
Caudumer Anky 7 is a result of a flush with Molenkamp Jego. She is owned now by the Van Zwol family, this family purchased Caudumer Anky 7 from Caudumer Holsteins (Haytema family) as a first calver. By that time it was clear she would grow into a great milking cow. Right know she's in her 5th lactation and produces over 56.000 kgM with 3.75% f and 3.36% p. Anky 7 has this awesome production from the best, noticing her great pedigree. Recently she had a visit of the classifier which resulted in an excellent score of EX-91. Besides Anky 7 EX-91 also two other heifers were born from this flush: Red Hot Annelinde GP-84 (LA5 53.465 kgM 4.10% fat and 3.33% protein) and Red Hot Andrea VG-85 (LA5 54.158 kgM 4.11% fat and 3.27% protein). They are both still in production.
Molenkamp Anky 4 EX-91 is a great example of what the GenHotel Selection Sale delivers! Place your bid today and get your next great brood cow into your barn! 
Go to the GenHotel Selection Sale offer!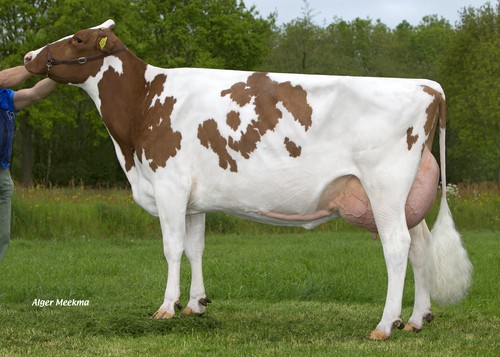 Dam of Anky 7 EX-91, Molenkamp Anky 4 EX-90 (s. Kylian)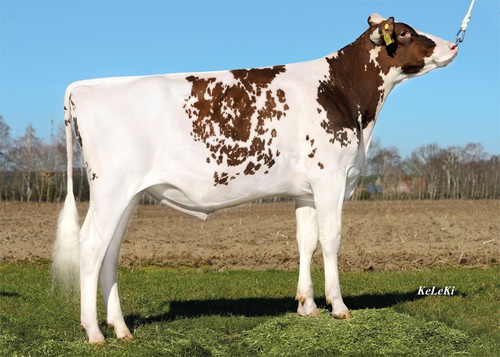 Caudumer Goch (s. Glorious) fancy maternal brother of Caudumer Anky 7 EX-91 at Masterrind