Jacobas do well during the classification day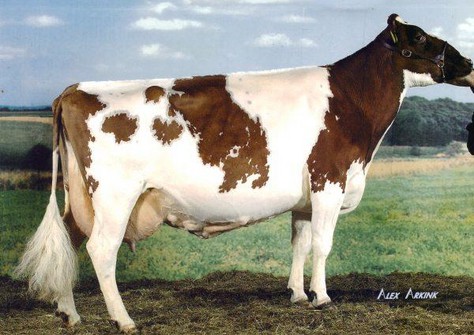 General
Stouwdamshof Jacoba 8 EX-91 matriarch from the Jacobas
The Stouwdamshof Jacoba family has been a real signboard of the Van 't Hof family (Stouwdamshof Holsteins) for years now. Also during the recent classification the Jacoba family did very well. Six members of this family are classified and on average these animals scored a great total score of 84.7 points!
Highest heifer score went to a Bouw Snowfever daughter: VG-87. Stouwdamshof Jacoba 153 her high score is due to the maximum score of VG-89 for her frame and type! Dam of this Snowfever is the full sister of the proven sire Stouwdamshof Akron. Jacoba 153 VG-87 is a granddaughter of Stadel-Red daughter Stouwdamshof Jacoba 31 VG-89. Unfortunately Van 't Hof recently had to say goodbye to this fantastic cow. Jacoba 31 VG-89 reached an incredible lifetime production: 126,361 kgM with 4.5%f and 3,6%p! With this tremendous achievement she has not only exceeded the 100,000 kgM limit, but also the milestone of 10,000 kg of fat and protein!
Also Jacoba 31 VG-89 her second lactation Pine-Tree Sid daughter was re-classified. She also received a score of VG-87. Stouwdamshof Jacoba 147 her dairy strength was awarded with VG-89. She dit not only inherit her dams showtype, but also the fantastic ability to produce milk. Jacoba 147 VG-89 her second lactation is namely projected at 13,468 kgM with 3.72%f and 3.15%p in just 305 days. 
Six Jacobas, all descendants of the Grand Champion NRM 2002 Stouwdamshof Jacoba 8 EX-91, got a fantastic average score of 84.7 points total score!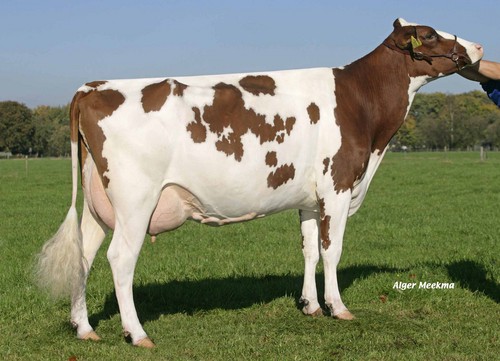 Stouwdamshof Jacoba 31 VG-89
In addition to the Jacobas, a descendant of Stouwdamshof Malve 40 EX-90 (s. Lord Lily) got a nice score of VG-86 with VG-87 MS. The first calver Big Malki daughter of Van 't Hof already shows in her first lactation a lot of potential to match her ancestors.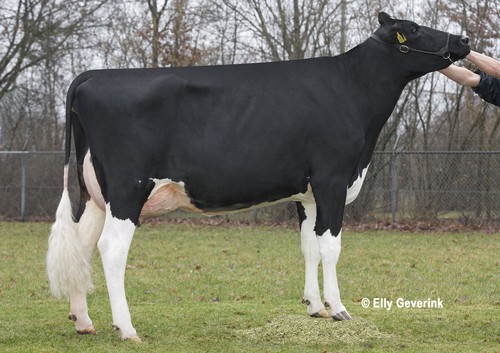 Stouwdamshof Malve 129 EX-90 (s Goldwyn), granddam of Stouwdamshof Malve 199 VG-86 (s. Malki)
The highlights of the recent classification:
|  NAME |  SIRE |  DAM | COL | LAC | FR | DS | MS | FL | TOT |
| --- | --- | --- | --- | --- | --- | --- | --- | --- | --- |
| Jacoba 147 | Sid |  Jacoba 31 VG-89 | Z | 2 | 88 | 89 | 87 | 87 | 87 |
| Jacoba 153 | Snowfever | Jacoba 61 VG-88 | Z | 1 | 89 | 89 | 87 | 84 | 87 |
| Jacoba 122 | AltaTimon | Jacoba 71 VG-87 | R | 4 | 87 | 90 | 86 | 83 | 86 |
| Malve 199 | Malki | Malve 182 VG-88 | Z | 1 | 85 | 87 | 87 | 84 | 86 |
| Melkbron 114 | Durable | Melkbron 112 VG-88 | R | 2 | 89 | 87 | 89 | 85 | 86 |
| Peinzer 55 | Slingeman 188 | Peinzer 25 VG-89 | Z | 1 | 84 | 86 | 85 | 84 | 85 |