Iwood V/H Zomerbloemhof classified VG-88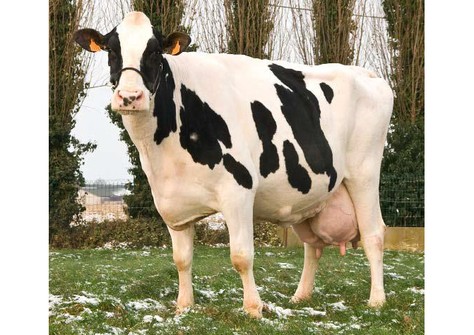 Type
Nele V/H Zomerbloemhof, 4th dam to Iwood
Atwood daughter Iwood V/H Zomerbloemhof is classified VG-88 at Van Het Zomerbloemhof. Iwood is the Reserve Champion of the Provincial show in Gistel (West-Flanders) and hails from a very deep cowfamily with a lot of longevity. Her dam is a daughter of Shottle out of a Capri daughter that produced 71.614 kg of milk. The third and fourth dam to Iwood are Roosje VG-87 (Rudolph; 100.343 kg milk) and Nele VG-86 (Astre; 157.117 kg milk). You can find their pictures in the "Proud to have Breed" section. The fifth dam to Iwood is a daughter by Camillo with a lifetimeproduction of 101.260 kg of milk.
Below a movie with Iwood V/H Zomerbloemhof (after 11 seconds).
3x 100.000 kg
The recent year (2015) three more cows at Van Het Zomerbloemhof managed to produce over 100.000 kg of milk. These cows are Arminda (Talent), Britt (Myron) and Zoe (Titan). Britt is recently classified GP-84 in her 7th lactation after producing 110.000 kg of milk.
The next cow that probably will produce 100.000 kg of milk is Ann. This Talent daughter is 10 year old, in her 9th (!!) lactation and recently classified VG-86. She already produced almost 98.000 kg of milk so far.
#1 GNVI Flanders
Also classified VG-86, but as a 2-yr old, is Inderella V/h Zomerbloemhof. This Let It Snow daughter hails from the Giessen Cinderella family and her dam is a VG-85 Iota x VG-87 Goldwyn x VG-87 Bolton x Giessen Cinderella 15 EX-91. This family goes all the way back at "Queen of the Breed" C Glenridge Citation Roxy EX-97.
Inderella is the dam to Kristina V/H Zomerbloemhof. She is the current #1 GNVI of Flanders with +311 GNVI and one of the highest GNVI Balisto daughters. She has high numbers for components, longevity and mammary.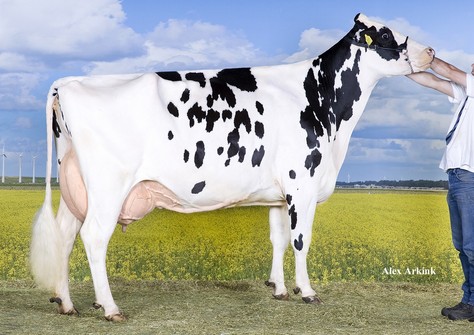 Giessen Cinderella 15 EX-91, 5th dam to Kristina