GTPI 08-2018 (females)
The list with GTPI values from the European heifers/cows is added to the GenHotel site. GenHotel members can take a look at the new numbers of their animals on their GenHotel page.
New #1
The new #1 in Europe is MB 87119, a +2891 GTPI Rubi Agronaut daughter of Plain-Knoll Josuper 794 and backed by the Seagull-Bay Oman Mirror VG-86 family. MB 87119, owned by the German AI NOG, is a full sister to K&L OH Mirror who offers +2876 GTPI and the number 5 GTPI in Europe.
Other new high testing heifers this month are OH DG Sky Runner (+2857 GTPI) owned by Melkveebedrijf De Oosterhof and DG and CNH K&L Hester (+2857 GTPI). Last mentioned is owned by CN Holsteins, Dukefarm Holsteins and K&L and her dam is Dukefarm Delta Havelange, a Delta daughter of Cookiecutter Ssire Have VG-86 (Supersire x Cookiecutter MOM Halo VG-88). A Magictouch half-sister to Hester, Holbra K&L Magic Havelange, scores +2801 GTPI and she also is among the top 10 this month. She is owned by K&L and Holbra Holsteins.
Click here for the top 50 GTPI 2018-08 (new)
Click here for the top 100 GTPI (overall)
Top 10 GTPI 2018-08 new
| Naam | Afstamming | GTPI | Eigenaar |
| --- | --- | --- | --- |
| MB 87119 | Rubi Agronaut x Josuper | 2891 | NOG |
| OH DG SKY RUNNER | Jedi x Delta | 2857 | Melkveebedrijf De Oosterhof, DG |
| CNH K&L Hester | Sound System x Delta | 2853 | CN Holsteins, K&L, Dukefarm Holsteins |
| DG ELI | Spectre x Montross | 2845 | DG |
| DG DV SABIA | Imax x Jedi | 2834 | DG |
|   | Sound System x Emerich | 2810 | German owned |
| Holbra K&L Magic Havelange | Magictouch x Delta | 2801 | Holbra Holsteins, K&L |
| VILMA6572 | Jedi x Denver | 2799 | Hungarian owned |
| OLZA FORTUNE TITANA 150 | Fortune x Brodie | 2796 | Italian owned |
| PEAK DRG SOPHIA 9863 | Rocky x Monterey | 2796 | Peak-Alta, Koepon Genetics |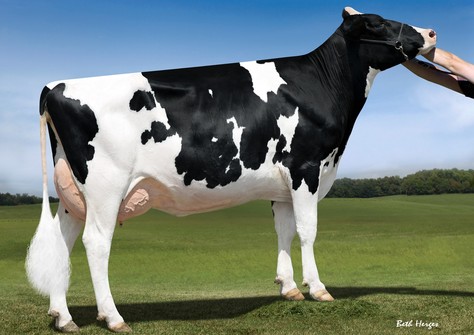 Cookiecutter Ssire Have VG-86, granddam to Hester and Havelange