Great results purchases Poppe
General
Indiensnow VG-85 (s. Snowman), dam of Indiabay VG-87
To increase the genetic level of the herd and to be able to offer a broad variaty of top genetic animals, Poppe Holsteins in The Netherlands purchases several interesting heifers out of great cow families through GenHotel every year.
Some great producing purchased females are :
► Indiabay VG-87 (VG-86 MS) is a fancy, powerful S-S-I Tape Overbay daughter from the deep German I-cow family of Schäkel, which has also delivered the popular Lukas son Leif. She was purchased as a heifer at the Highlight Sale by Poppe Holsteins and has produced in her first record in 417 days 18.070 kg milk. Also in her second lactation she performs excellent with 6 milkrecordings over 50 kg milk per day. Indiabay has daughters of Board, Kerrigan, Lighter & Ohio P and a Board son at the Spanish AI-stud Xenetica Fontao.
► SH Brekem Jolie RDC is purchased by Poppe & GenHotel at the Sunrise Sale 2015 and descending from the US GBM Durham B-Star Jerri EX-90 cow family, that also supplied the top Gymnast son SH Gigabyte. As a heifer Jolie RDC has produced many embryos, which has resulted in the highest Payball-Red son in the German system: K&L Payred at Qnetics. In her first lactation the high producing Jolie RDC produced in 305 days 13.000 kg, and also after 2nd calving her first 6 milkrecording are all over 40 kgs/day.
► K&L Ks Joy P Red VG-86 (VG-87 MS) is a red and polled Kansas P Red daughter of above named Jolie RDC. She is owned by Poppe and HWH Holsteins and has started her first record also with 4 recordings over 40 kgs milk per day and a peak production of almost 50 kg/day.
Are you also looking for females with tremendous production potential from great cow families?
Do not hesitate to contact Boudewijn Koole (+31 6 54796318) or Martijn van der Boom (+31 6 24217748).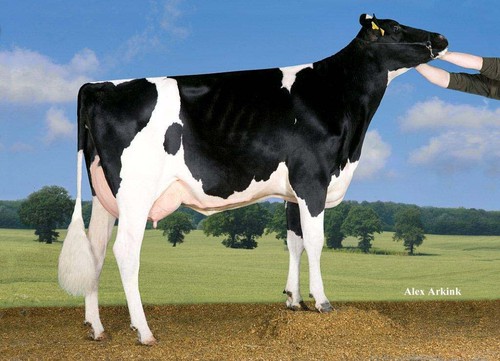 SH Jolie Jumper VG-88 (s. Man-O-Man), granddam of SH Brekem Jolie RDC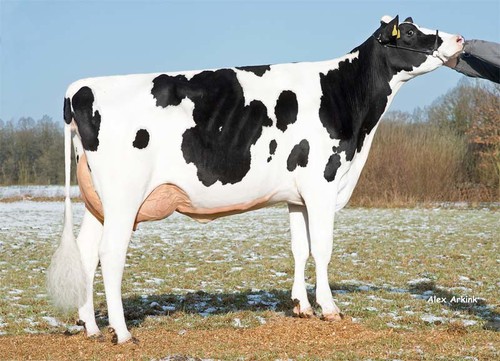 SH Silver Josie VG-86, dam of the high Gymnast son SH Gigabyte